(SOLD) Epiphone Japan ES-930J Sorrento Orange 2008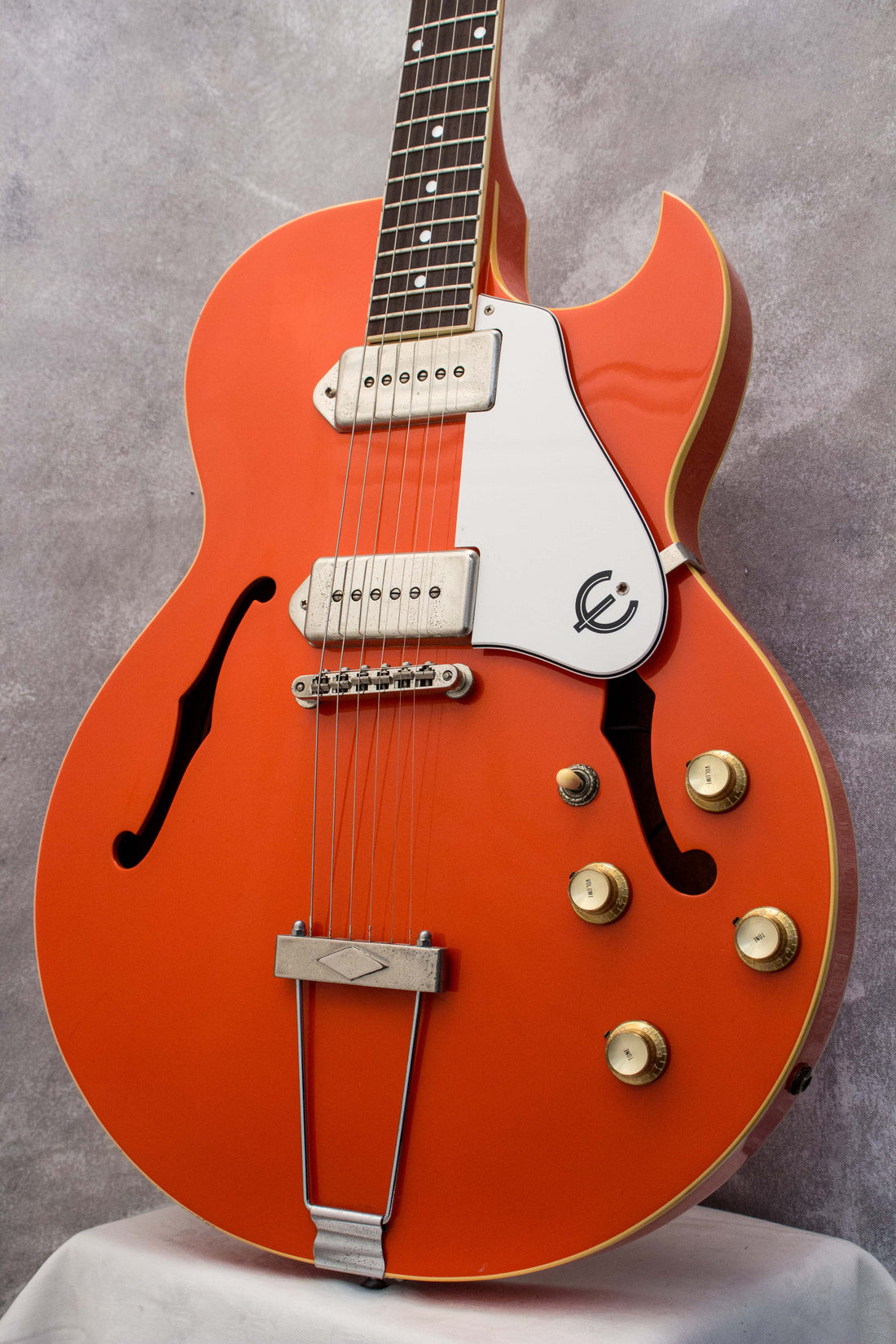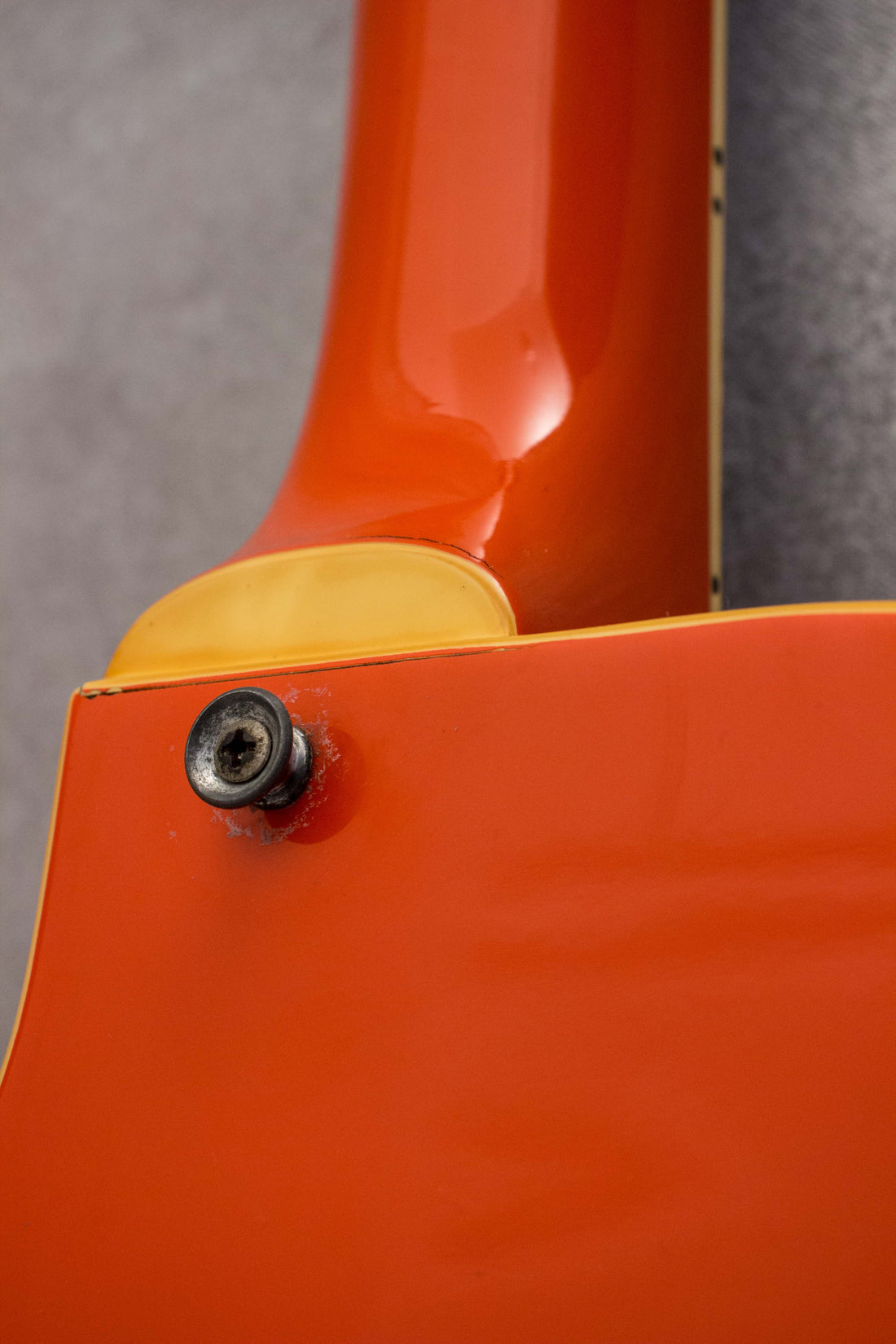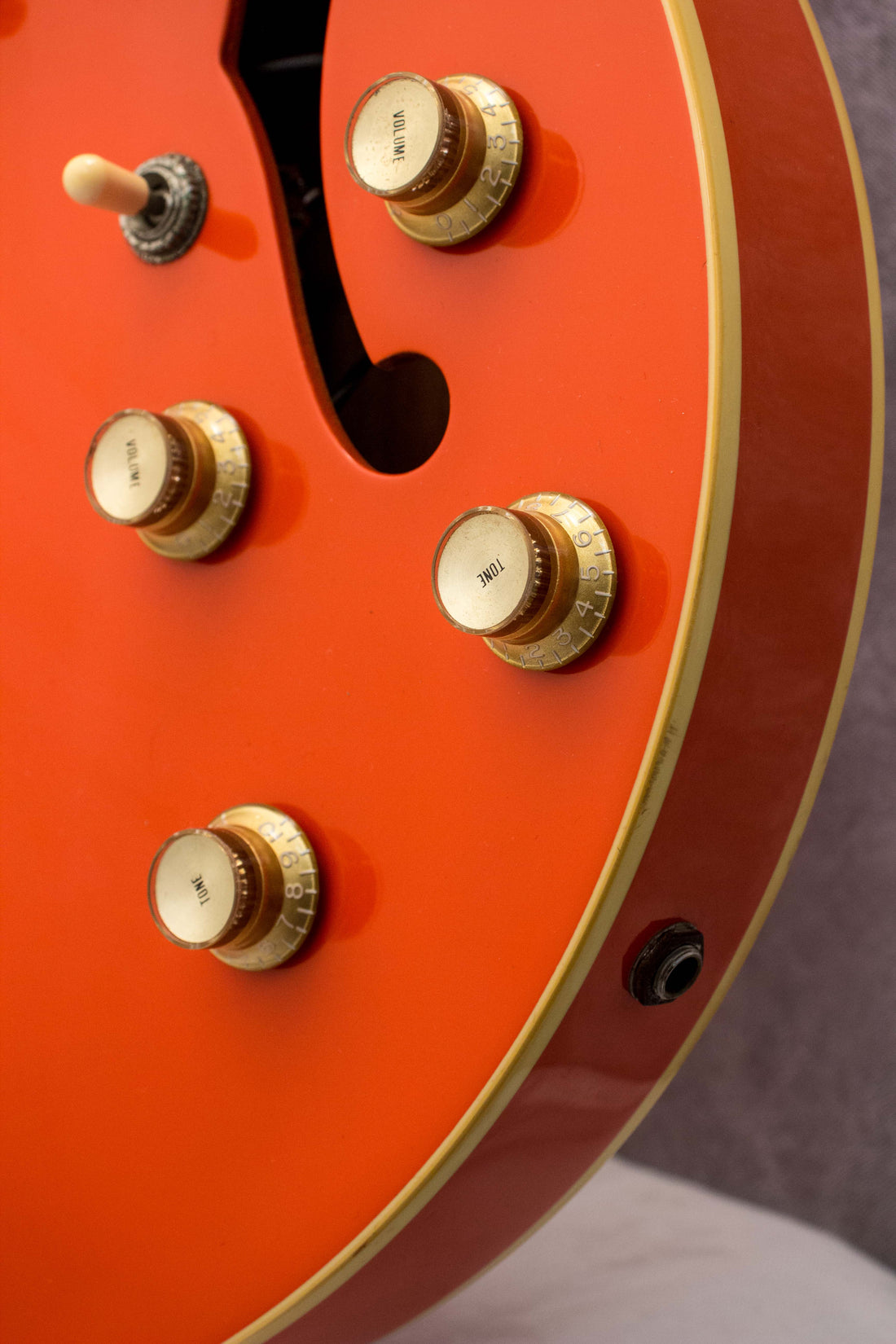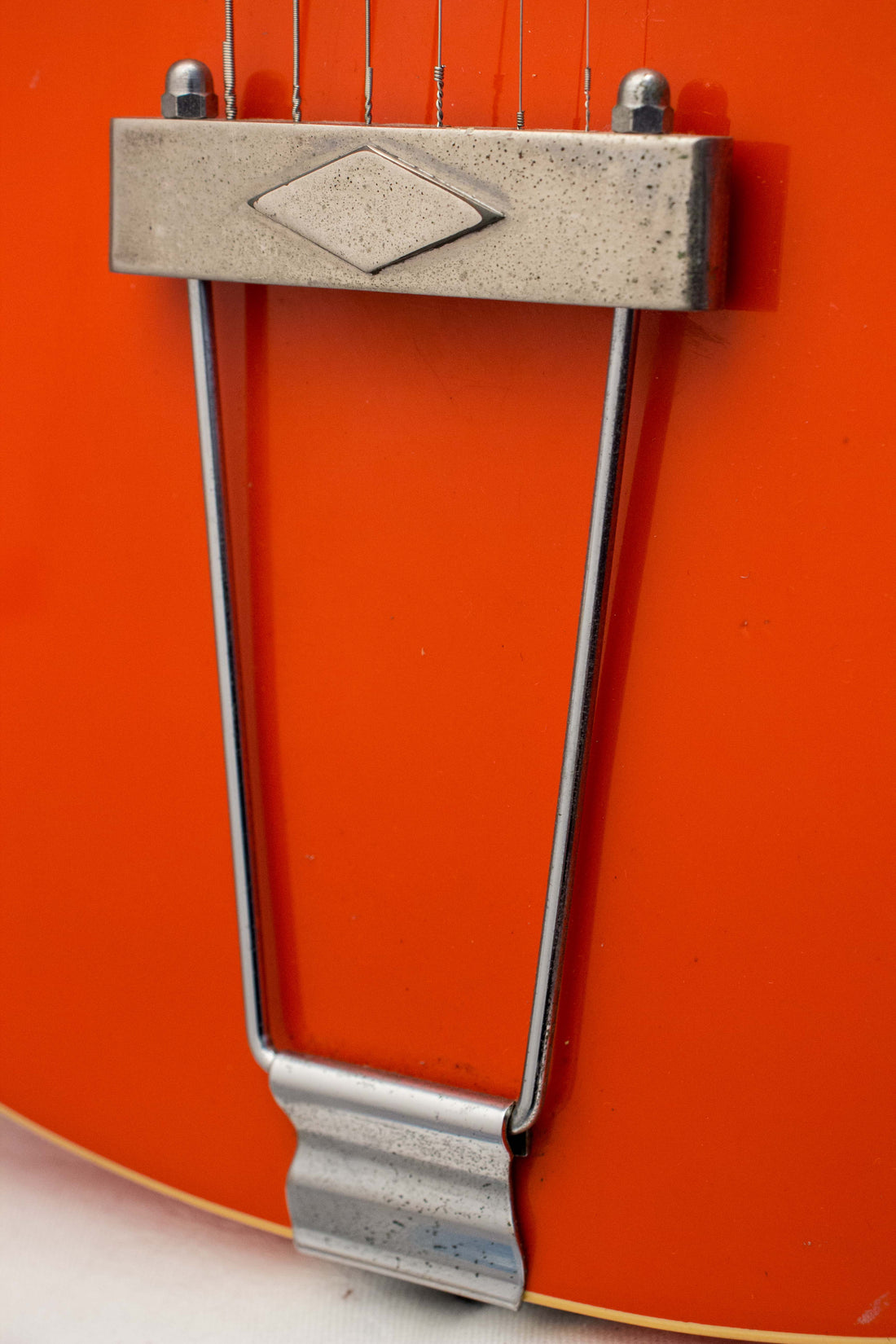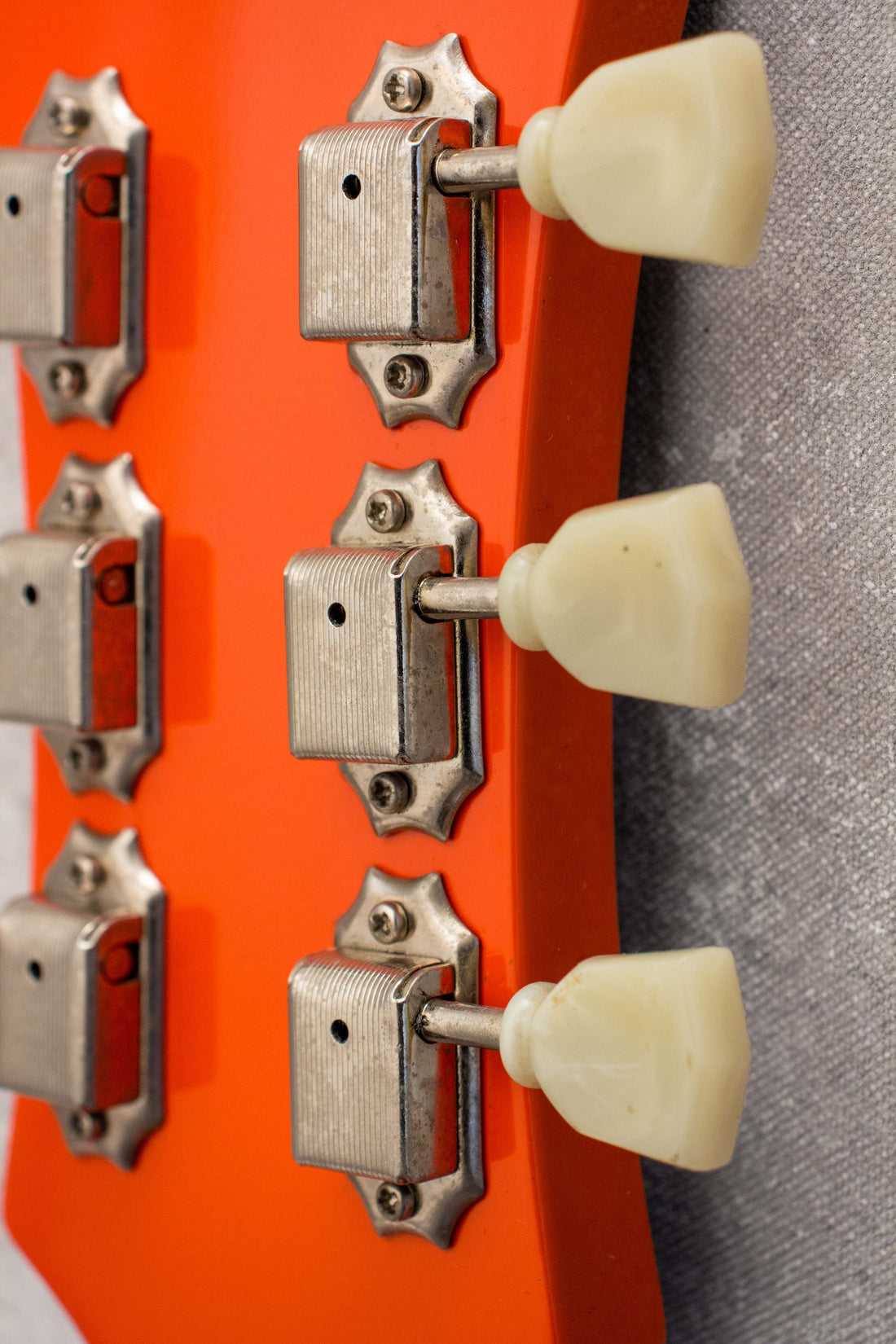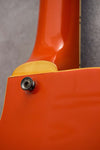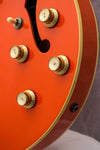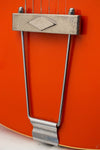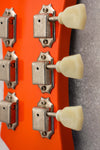 Epiphone ES-930J Sorrento, bright orange, made in Japan 2008. Here's one you don't see everyday! The MIJ Epiphone guitars are seldom seen; the Elitist and Elite lines were briefly exported around the world but never in huge numbers. The iconic model in that bunch is the Casino; those are fetching huge dollars now. This is a similar setup: fully hollow thinline body, two 'dog ear' P-90s, trapeze tailpiece; all Casino-esque. The difference is basically body shape: this has the classy single florentine cutaway. The Sorrento debuted in 1962 as an original Epiphone design out of their USA factory, so these have a long and quirky history attached. The orange finish is pretty out there, but with some aged binding and a lovely dark rosewood board this has a certain country-club class to it. The build quality on offer is immediately apparent in the hands: it just feels right; very reassuring. Tone-wise, the P90s have that creamy, rich midrange that's so tasty, balanced by a clear chiming treble and immediate attack. This is an orange delight: it's a big bag of Jaffas in guitar form.

Model: Epiphone ES-930J Sorrento
Made: Japan, Fujigen plant, 2008 (serial 08179)
Body: laminate maple, thinline depth, fully hollow
Neck: maple, rosewood board, 24.75" scale, 12" radius
Weight: 2.900kg
Mods: none
Pickups: Gibson P-90 single coil x2
Case: none

Cosmetic condition notes: minor finish wear. Headstock has a minor mark on the end and some dimples on the back. The neck is clean and smooth in the hands, minor dimples on the back only. The back has some buckle rash scuffing on the top edge near the horn, as well as some widespread but minor surface scratches. The sides have no major marks, just some discolouration on the binding, dimples on the horns and near the jack and some little cracks in the finish only near the neck joint and rear strap pin. The front has no major marks, just some dimples near the tailpiece and some dimples and a sticker fade mark on the top horn. Overall: very good condition (8/10)

Playing condition notes: Neck is straight, action is low, intonation is good, truss rod works. All electrics tested and working properly. Frets have some normal wear but are fairly even and don't need immediate attention, 7/10 for fret life left. Wearing fresh 11/49 Moonshiners strings.