(SOLD) Fender '52 Reissue Telecaster TL52-70US Vintage Natural 1997-00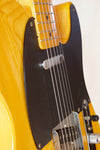 Fender Japan '52 Telecaster, crafted in Japan 1997-00, vintage natural. This is very tidy and very charming. The two piece sen ash body is a stunning specimen, it's got some really tight grain on the bottom half juxtaposed with some wider more rounded figuring on the top half, it's quite an unusual look. Most of these models have a three piece body, so a two piece with grain like this is certainly a unique and appealing look. The neck is a lovely straight piece of maple with a moderate profile and a very mild-V, it's friendly and familiar. The legendary Tele-twang is all there: bright, sparkly and warm, perfect for big bends and open chords. This is a real sweetie, it's sure to treat you nicely on those cold lonely nights.
Model: Fender Telecaster '52 Reissue (TL52-70US)
Made: Japan, 1997-00 (CIJ, serial O055213)
Finish: vintage natural (VNT), single ply black guard
Body: sen ash
Neck: maple, maple board, moderate very-slight-V profile
Mods: none
Weight: 3.5kg approx
Pickups: Fender USA TL Vintage single coils
Case: FREE hard case RRP $139
Cosmetic condition notes: Minor cosmetic wear. There's a couple of minor dimples on the body, mostly in the 'buckle rash' area. Aside from that, some scratches on and near the guard from play and some minor pitting on the chrome... barely a nudge really. Overall: excellent condition (9/10)

Playing condition notes: Action is low, neck is straight, intonation is good, truss rod works. All electronics tested and working properly. The frets are in good shape, just some normal wear, 7/10 for life left. Tele-Tuesday every day!