(SOLD) Fender '62 Reissue Precision Bass PB62-53 Black 1993/4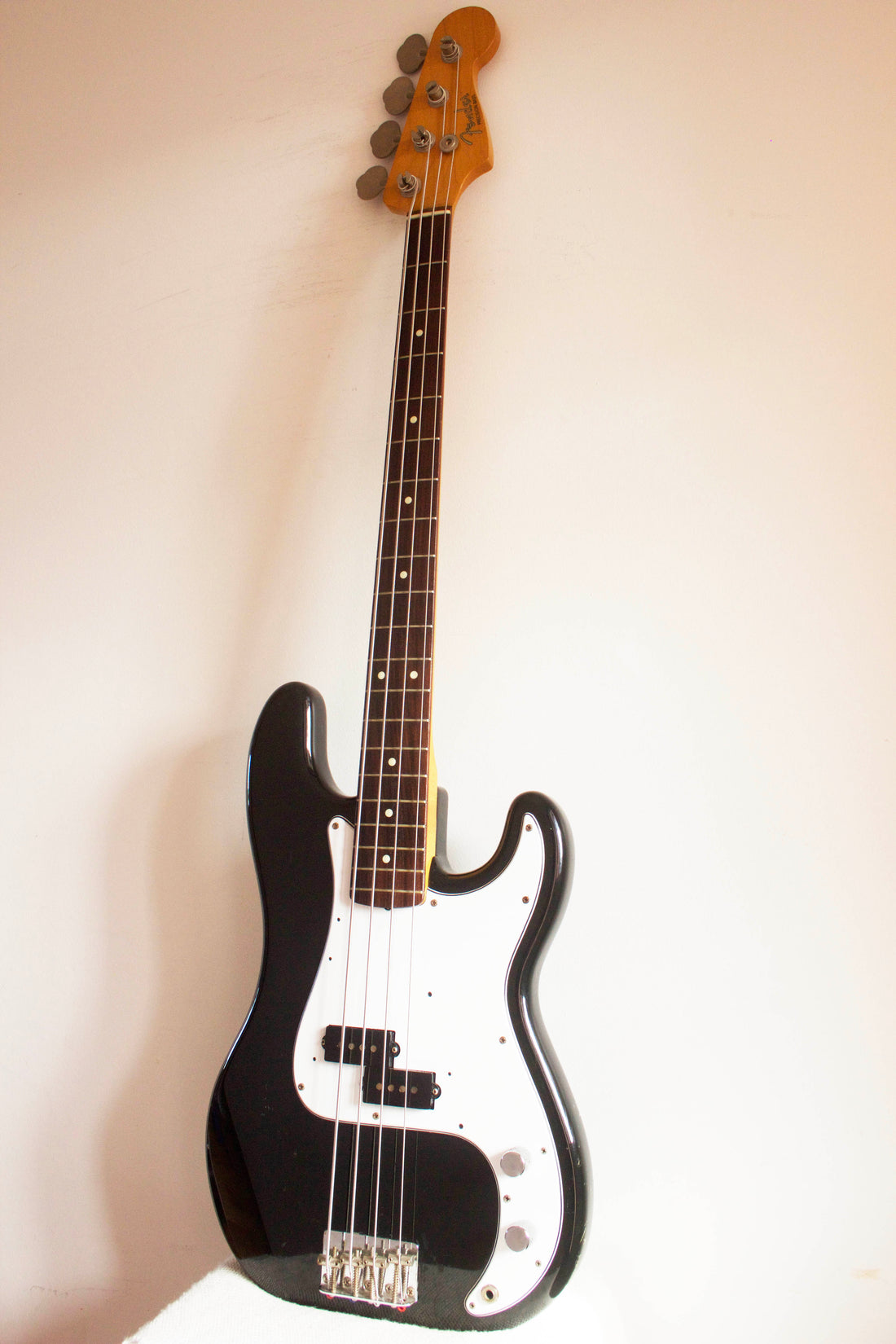 Fender '62 P Bass, made in Japan 1993/4, black. This is a simple and effective bass, no fuss here! The classic-tux B&W look is clean and classy, it shows off the sleek-P lines nicely. Fujigen-built Fender basses are in increasing demand owing to their excellent feel and build quality, and this is no exception: it all just feels right. It took a knock in transit and needed a minor repair to the headstock (see condition notes), but it's in great shape and is ready-to-roll for another 25ish years of adding the thick thump to any situation. This does exactly what you need it to do, no more and no less. P FTW!

Model: Fender Precision Bass '62 Reissue, PB62-53
Made: Japan, 1993/4 (MIJ, serial N022112)
Finish: black, 3-ply white guard
Body: basswood
Neck: maple with rosewood board, dot inlays
Weight: 3.9kg approx
Mods: guard replaced, strap pins repalced
Pickup: Fender Japan PB-Single
Case: none

Cosmetic condition notes: moderate finish wear. There's a fair few scratches and dings on the back, as well as some good scratches on the bottom near the input jack. The front is cleaner, just a few nicks around the bridge and above the guard mostly. Note that the strap pins were missing when pics were taken, but that's since been sorted. The headstock suffered a minor crack from impact, so we arranged a professional glue job by our local pro, it's so nicely done you can barely see it, but there's a faint line through the G tuning post. Nothing dramatic. Overall: good condition (7/10)

Playing condition notes: Action is low, neck is straight, intonation is good, truss rod works. Note the repairs as listed above. All electrics tested and working properly. Frets look good, minor wear only, 8/10. Set up with fresh 45/105s.