(SOLD) Fender Japan '52 Reissue Telecaster TL52-70US w/ Bigsby Natural 1999-02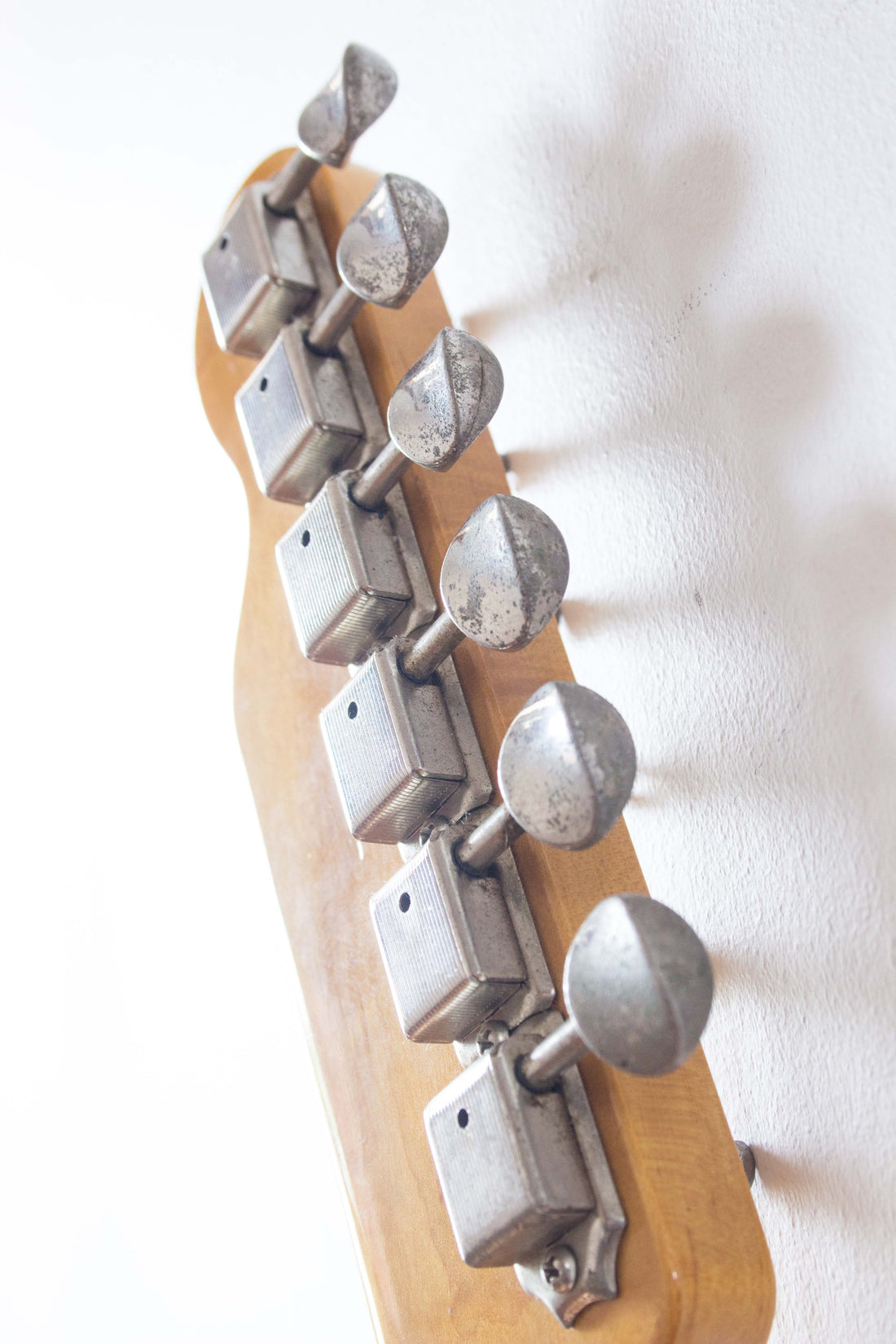 Fender '52 Tele, natural finish, modded with a Bigsby, crafted in Japan 1999-02. This is very cool indeed. First, it started life as a cool guitar. It left home with a sweet pair of USA pickups, a soft-V shape neck and an unusual natural finish without the 'vintage' tint, all of which it has kept. It has since gained a Bigsby tailpiece, and upgraded bridge with some brass compensated saddles, a white guard and a re-wire with some robust premium quality electronics. That all adds some serious swagger. The vibrato is smooth and stable, adding a little bit of 'plonk' to the attack and allowing for a whole lot of fun. The upgraded electronics mean you really hear the best of the pickups and the body: classic Tele bite and snap, but with a warmth and sweetness that makes everything nice and easy to swallow. The soft-V neck is a 50s correct feature that is surprisingly natural; it really feels lively and sturdy and full of attitude in the hands. This will seriously challenge some much more expensive Tele models going around for feel, tone and attitude. What a boss.
Model: Fender Telecaster '52 Reissue (TL52-80TX)
Made: Japan, Tokai plant, 1999-02 (serial P020468)
Finish: vintage natural (VNT), single ply black guard
Body: sen ash
Neck: one piece maple, mild V-profile, 72.5" radius, 25.5" scale
Mods: Bigsby vibrato added, bridge plate switched to Wilkinson model with compensated brass saddles, full wiring upgrade inc Switchcraft jack, CTS pots and USA swtich, pickguard replaced (original included)
Weight: 3.990kg
Pickups: Fender USA TL-Vintage single coils
Case: basic gig bag
Cosmetic condition notes: minor finish wear. Headstock has some minor dimples on the end, bottom edge and back below the D-string peg. Neck is pretty clean, just some minor dimples behind the 7th fret and some normal play wear; feels smooth in the hands. The back is pretty clean, just some light scuffs and scratches mostly around the string ferrules. The sides have a few little marks on both horns as well as some noteworthy chips near the jack, rear strap pin and in the shoulder area, see the pics. The front is pretty good, just a few marks around the edge near the knobs, up from the bridge pickup and up from the tailpiece. Overall: good condition (7/10)

Playing condition notes: Action is low, neck is straight, intonation is good, truss rod works. All electronics tested and working properly. The frets are in good shape with some normal but not nasty wear, 7/10 for life left. Wearing fresh 11/49s.