(SOLD) Fender Japan '57 Precision Bass PB57-95 Sunburst JV Serial 1982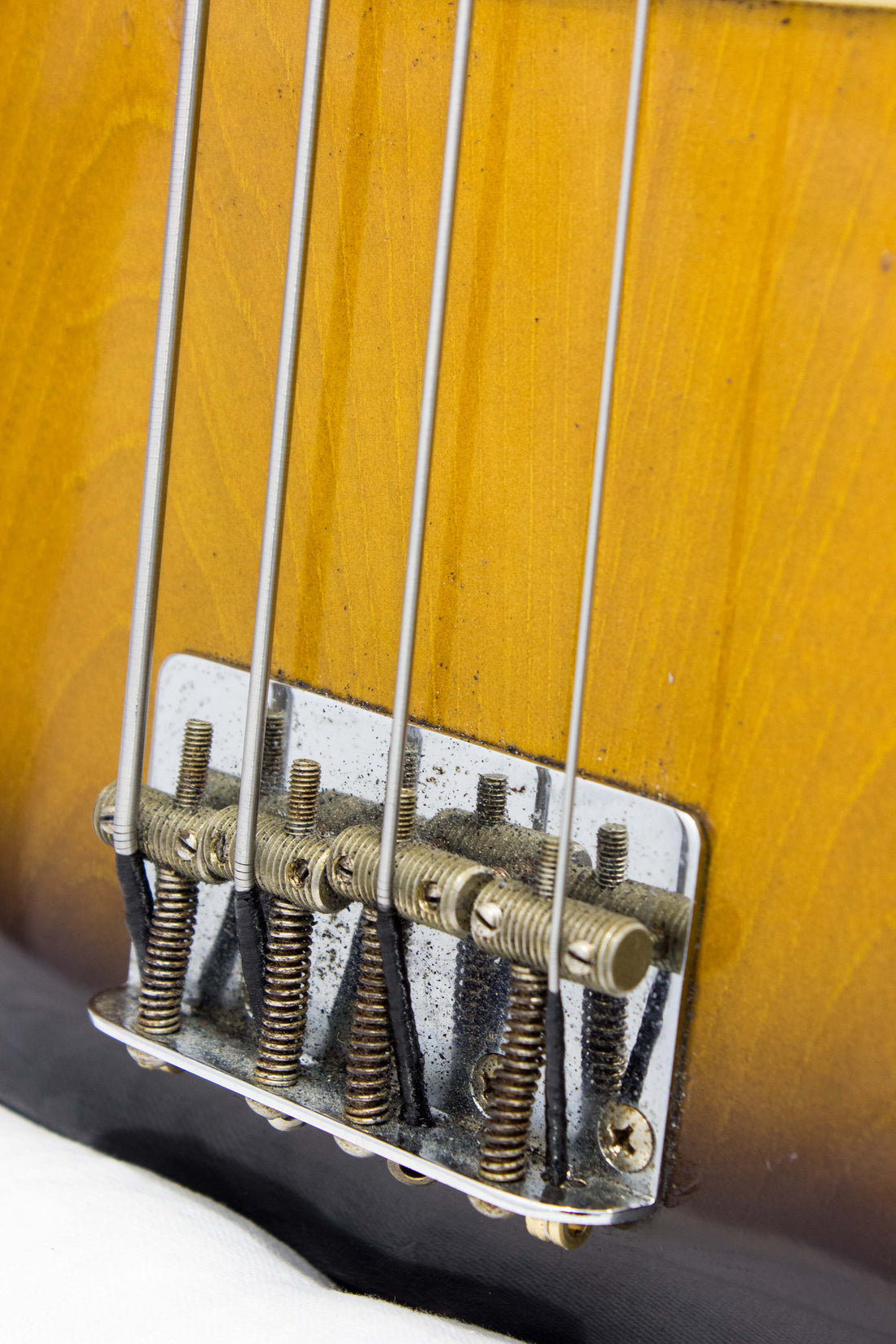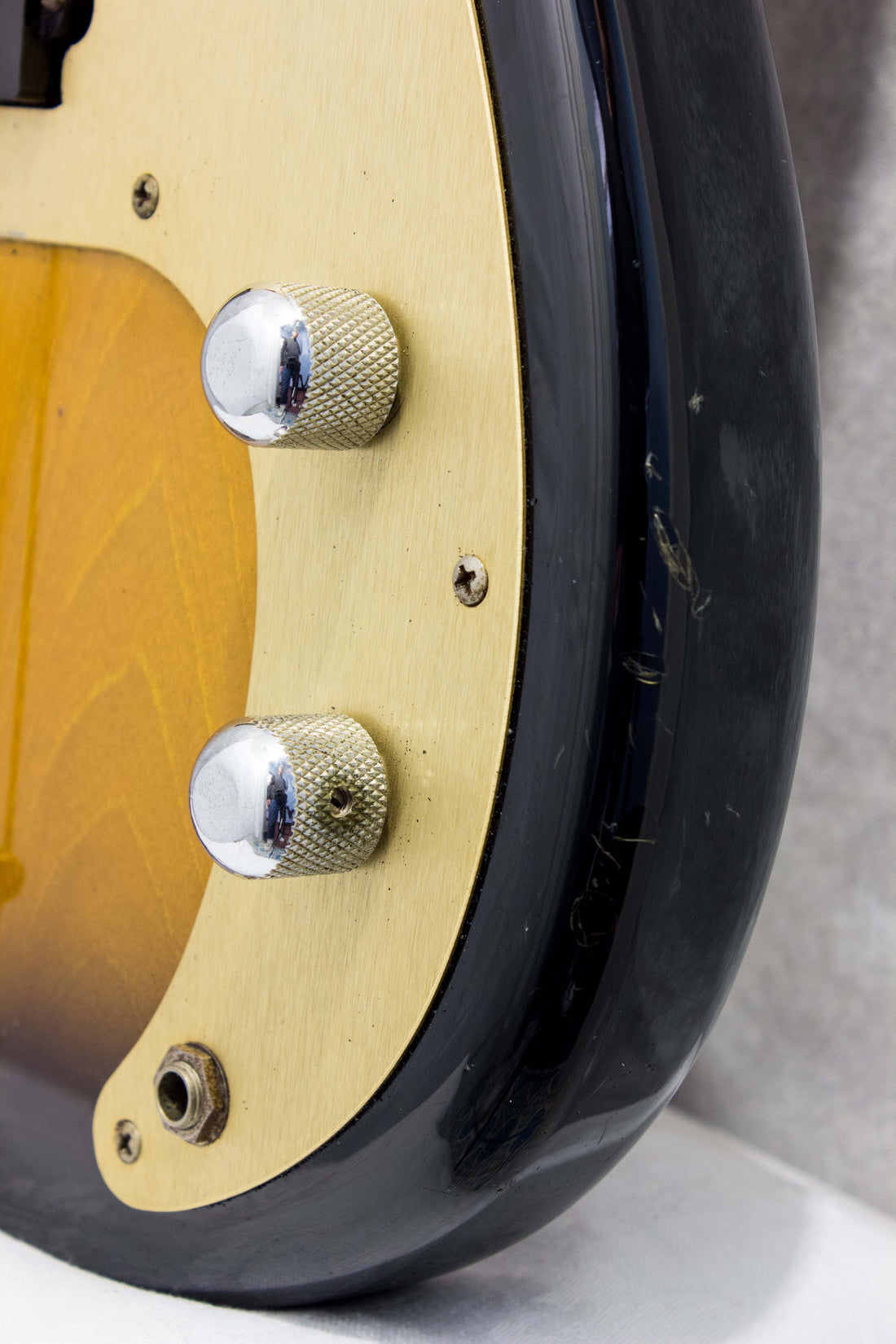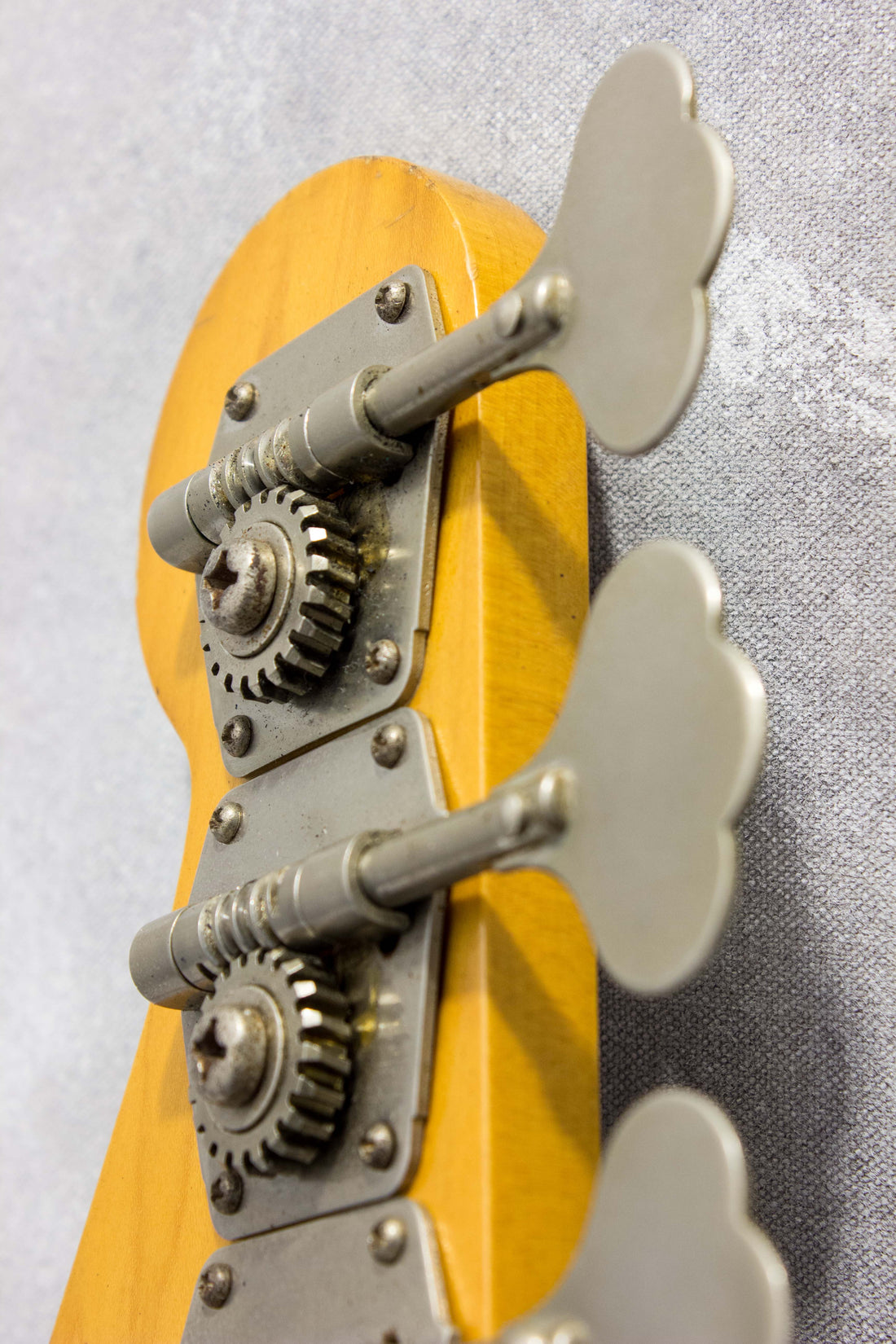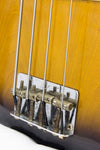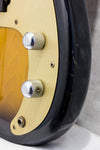 Fender '57 Precision, JV serial example made in June 1982, two tone sunburst. The JV serial instruments were the first Fender branded instruments made outside USA, built to an incredible standard by the famed Fujigen Gakki plant in Japan. Fender had increasing quality issues after the sale to CBS in 1964, and by the late 70s instruments rolling out of Fullerton that were pretty hit and miss. The first batch of MIJ Fenders were met with elation in USA by Fender execs: these were the best made Fender instruments since the mid sixties. This is a very early JV, a reissue of the classic 57 Precision Bass. This was the higher end model of the two in the catalog at the time, so it was blessed with a USA pickup, USA made anodized gold guard, vintage correct reverse tuners and a spiral bridge. The neck is a dream: golden hued aged maple, lively and straight, moderate in profile and a delight in the hands. The two piece ash body features some stunning grain; it's gorgeous and in a nice touch, not too heavy. Tone-wise, it's got the magic: huge, wide and full mids, massive punchy attack, juicy complex lows and a snappy, defined treble. It's currently wearing flatwounds, but still has all sorts of attack and punch. These absolutely don't come around often and frequently list for insane prices, so if you're after a special P bass that turns forty pretty soon, make this yours and thank yourself for the next few decades. 

Model: Fender '57 Precision Bass, PB57-95
Made: Japan, Fujigen plant, neck date 5 June 1982 (serial JV02841)
Finish: two tone sunburst, anodized gold guard 
Body: two piece lightweight ash
Neck: maple with maple board, 34" scale, 7.25" radius, 42mm nut
Weight: 4.285kg
Mods: frets dressed, washer/extender added to truss rod nut to get it to sit flush, pots possibly replaced at some point
Pickup: Fender USA PB-Vintage split single coil
Case: original vegan leather gig bag

Cosmetic condition notes: minor finish wear. Headstock has some scuffs and dimples on the end and bottom edge. The neck is clean and smooth in the hands, minor dimples on the back only. The back has a number of light scuffs and small dimples, no major marks. The sides have a few little things: dimples on both horns, a few scuffs and dimples on the elbow area and near the jack, plus a chip around the rear strap pin. The front is pretty tidy, just a few dimples around the bridge, in the elbow area and on the top horn as well as some play wear on the guard and horn. Overall: very good condition (7.5/10)

Playing condition notes: Action is low, neck is straight, intonation is good, truss rod works. All electrics tested and working properly. Frets are freshly levelled and polished, plenty of height in them, 8/10 for fret life left. Set up with fresh flatwound strings.