(SOLD) Fender Japan '57 Reissue Precision Bass PB57-75 Black 1993/4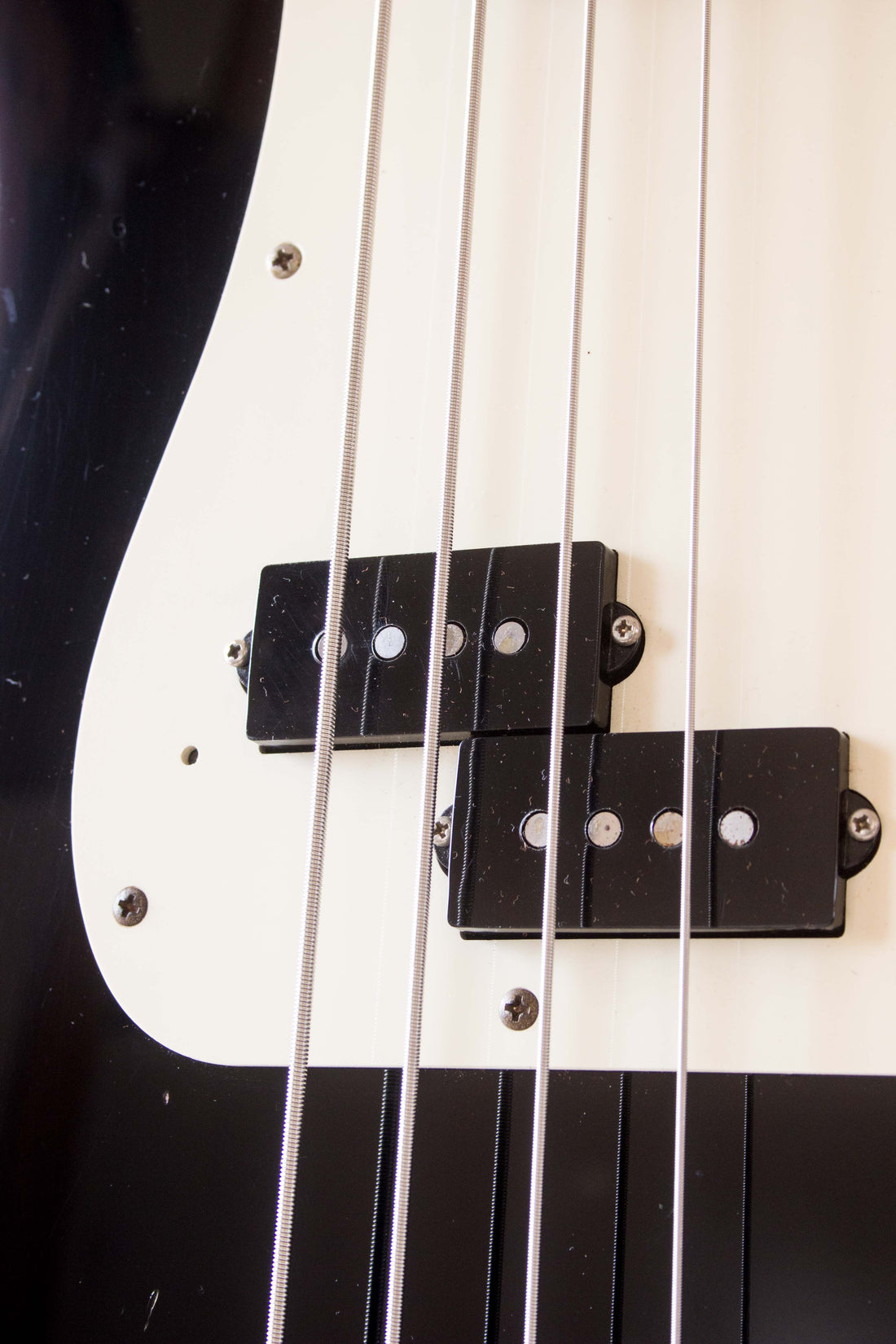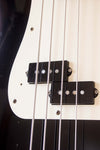 Fender P-Bass, '57 reissue in tuxedo style black-and-white, made in Japan 1993/4. Fujigen-era Precision basses are increasingly scarce, and the '57 style model with the maple board are certainly less common than their rosewood brothers. The maple-board/black-and-cream combo oozes class and mojo, it's a seriously great looking instrument. The tone is a little brighter and more defined than a standard MIJ P, it's got a really nice tight sound with plenty of rumble and nice little dose of cut; perfect for punk, funk or other styles that benefit from a nudge of extra definition. The neck feels awesome, it's well balanced and reassuringly chunky. Being a deluxe model of it's day, this bass has a USA Fender pickup and the spiral saddles, both are nice factory upgrades. You really can't go wrong with a good P, and this is one is very good indeed. 
Model: Fender Precision Bass, PB57-75
Year: Japan, Fujigen plant, 1993-4 (serial N042565)
Finish: gloss black, 1-ply cream guard
Body: basswood
Neck: 1-piece maple, dot inlays
Weight: 3.8kg
Mods: none
Pickup: Fender USA PB-Vintage split single coil, 10.42k ohms
Case: basic gig-bag
Cosmetic condition notes: minor finish wear. There's some marks on the end and bottom edge of the headstock. The neck is pretty clean and smooth, there's a few little dents on the back on the bottom side from frets 1-5 and a couple of little marks on the board on 15/16th frets. The back has some light dents and scratches that are widespread but very minor. There's a few minor scuffs around the sides, mostly neat the jack and the rear strap pin. The fron is pretty clean, just a couple of minor dimples above the bridge and some play scratching on the guard and top horn. Overall: good condition (7.5/10).

Playing condition notes: Action is low, neck is straight, intonation is good, truss rod works. All electrics tested and working properly. Frets are looking tidy, 8/10 for life left. Set up with fresh 45/105s.