(SOLD) Fender Japan Jazzmaster JM66 Black/Tort 1997-00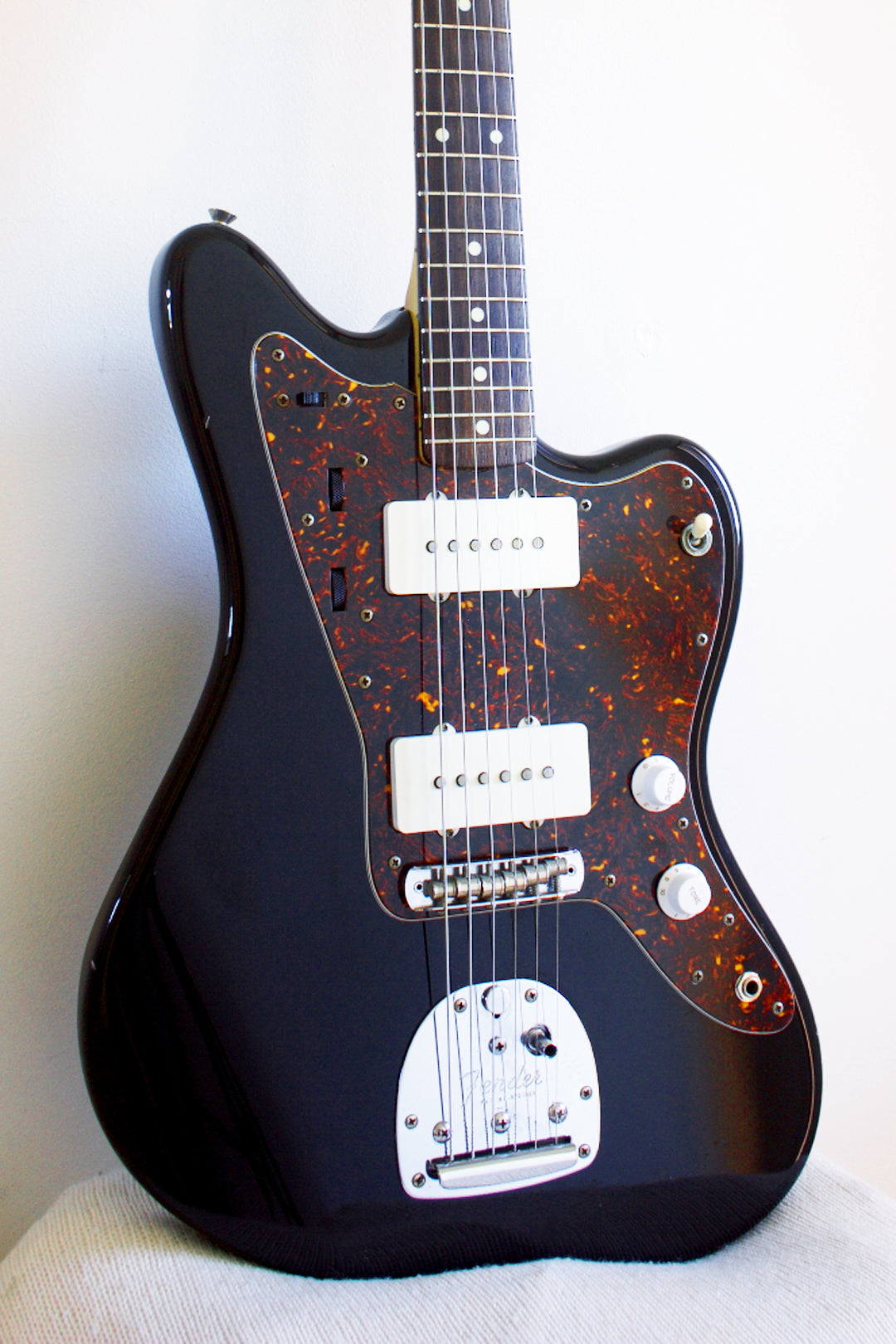 Fender Japan Jazzmaster JM66 in black, crafted in Japan 1997-00. The Jazzmaster is long-running cult favourite, owing to it's awesome dual-circuit electronics, thick juicy tone, superbly comfortable body shape and perfect styling. This particular one has switched the classic white guard for a tort example, adding some intrigue to the styling... it looks awesome from every angle. The slim neck and perfectly balanced body offer excellent playability; you'll want to add a strap and get busy straight away. This one has the practical Mustang bridge as well as a pair of Seymour Duncan 'Vintage Jazzmaster' pickups installed. The pickups are closer to a true 60s-style JM tone than the stock ones; they're brighter with more definition and articulation owing to the true 'pancake style' wind design. The defined attack and thick midrange on offer here is perfect for smattering with effects; it's a great base to mix colours from. This is a perfectly 'cool' guitar, nothing looks quite as at-home on stage as a Jazzy!

Model: Fender Japan Jazzmaster JM66
Made: Japan, 1997-00, Tokai plant (serial O041309)
Finish: gloss black, 3-ply tort guard
Body: alder
Neck: maple with rosewood board, dot inlays
Mods: bridge replaced with Mustang style, pickguard and knobs replaced
Pickup: Seymour Duncan SJM-1 'Vintage Jazzmaster' set
Case: good quality gig-bag

Cosmetic condition notes: minor finish wear. The front is pretty clean; there's the start of some checking lines running along the top, a few dimples around the bridge, some scratches on and around the guard from play, and a ding near the jack and on the top horn. The back has one proper scratch as pictured, as well as a few minor scratches and dings as well as the beginning of some more checking. Minor pitting on the chrome. Overall: good condition (7/10)

Playing condition notes: Action is low, neck is straight, intonation is good, truss rod works. All electrics tested and working properly. Frets are nicely polished but have some minor wear, 7.5/10 for life left. Wearing fresh 11/49s and playing well!