(SOLD) Fernandes JG45 Black 1999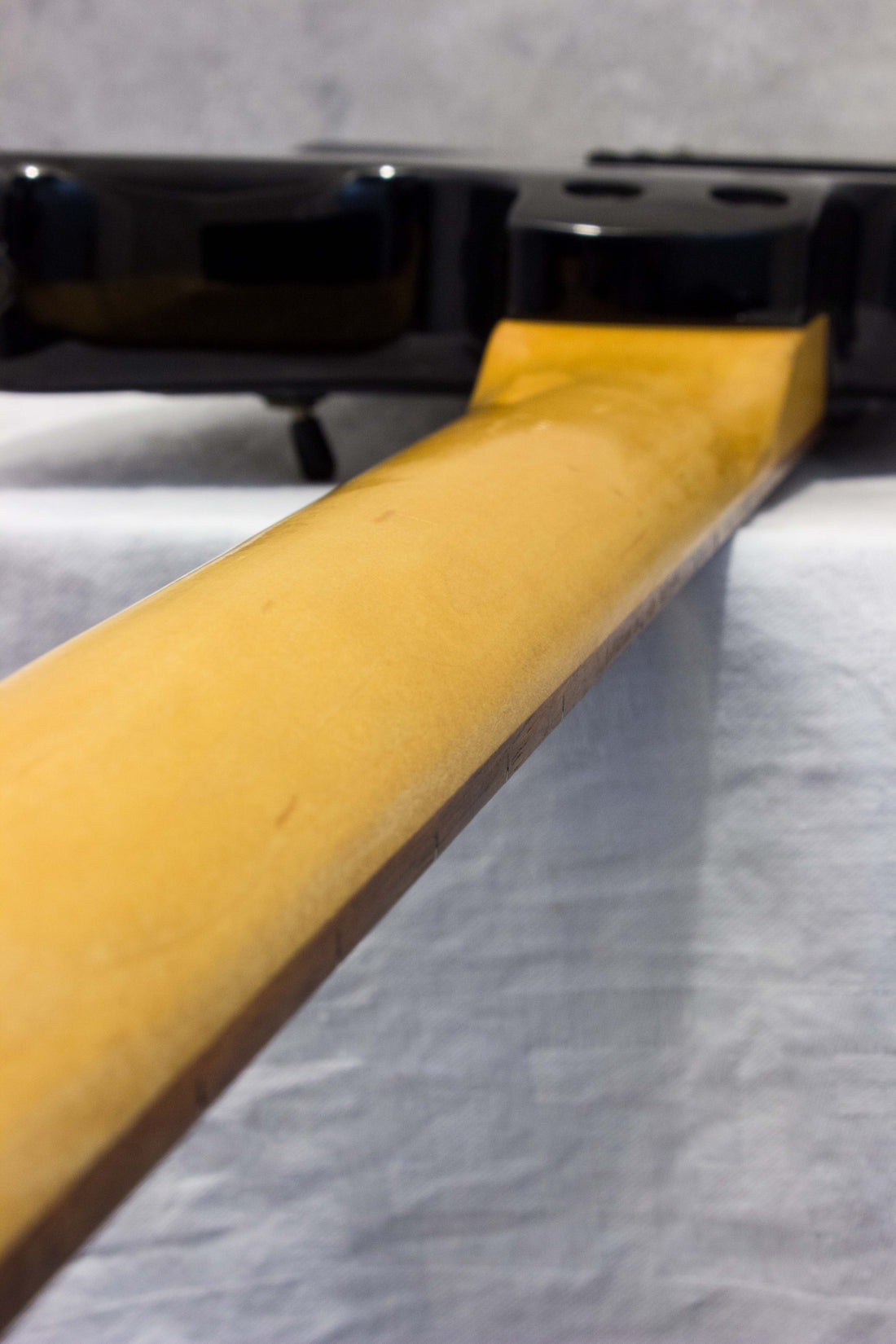 Fernandes JG45, made in Taiwan 1999, black. These JG series guitars are a lot of fun. Fernandes stuff has done really well in Japan for many decades, but you seldom see them outside Japan. Here we have a pretty cool take on the Jag style offset, but equipped with some 'modern' (for twenty years ago!) sensibilities: a fairly flat radius board, tasty two-point Strat-style trem, 25.5" scale and a pair of moderately hot passive humbuckers. The tone is awesome: heaps of attack and spank, but with a certain thickness through the mids and a punchy low end. It's perfect for big 90s grunge and punk rhythm parts; it eats that stuff for breakfast. The silver-on-black look is cool too; it has a certain robocop-tuxedo aesthetic that's a lot of fun. It's an easy player and a great sounding guitar... good fun!

Model: Fernandes JG45
Made: Taiwan, 1999 (neck date 22 Mar 1999)
Finish: gloss black, 1-ply silver guard
Body: basswood
Neck: maple with rosewood board, 25.5" scale, 13.75" radius
Weight: 3.595kg
Mods: none
Pickup: Fernandes SH-7 humbucker x2
Case: none

Cosmetic condition notes: minor finish wear. Headstock has some minor dimples on the end and top edge. Neck is clean and smooth in the hands, minor dimples on the back only. The back has a chip on the bottom edge and up from the cavity cover and some light scuffs around the body, no major marks. The sides have three little chips on the top horn, elbow area and near the rear strap pin, otherwise it's pretty clean. The front is pretty tidy, just a couple of nicks on the top horn and some play wear on the guard. Overall: very good condition (7.5/10).

Playing condition notes: Action is low, neck is straight, intonation is good, truss rod works. Frets have minor wear only, 8/10 for fret life left. All electrics tested and working properly. Setup with fresh 11/49 Moonshiners strings.