(SOLD) Gibson Les Paul Studio Metallic Yellow 2002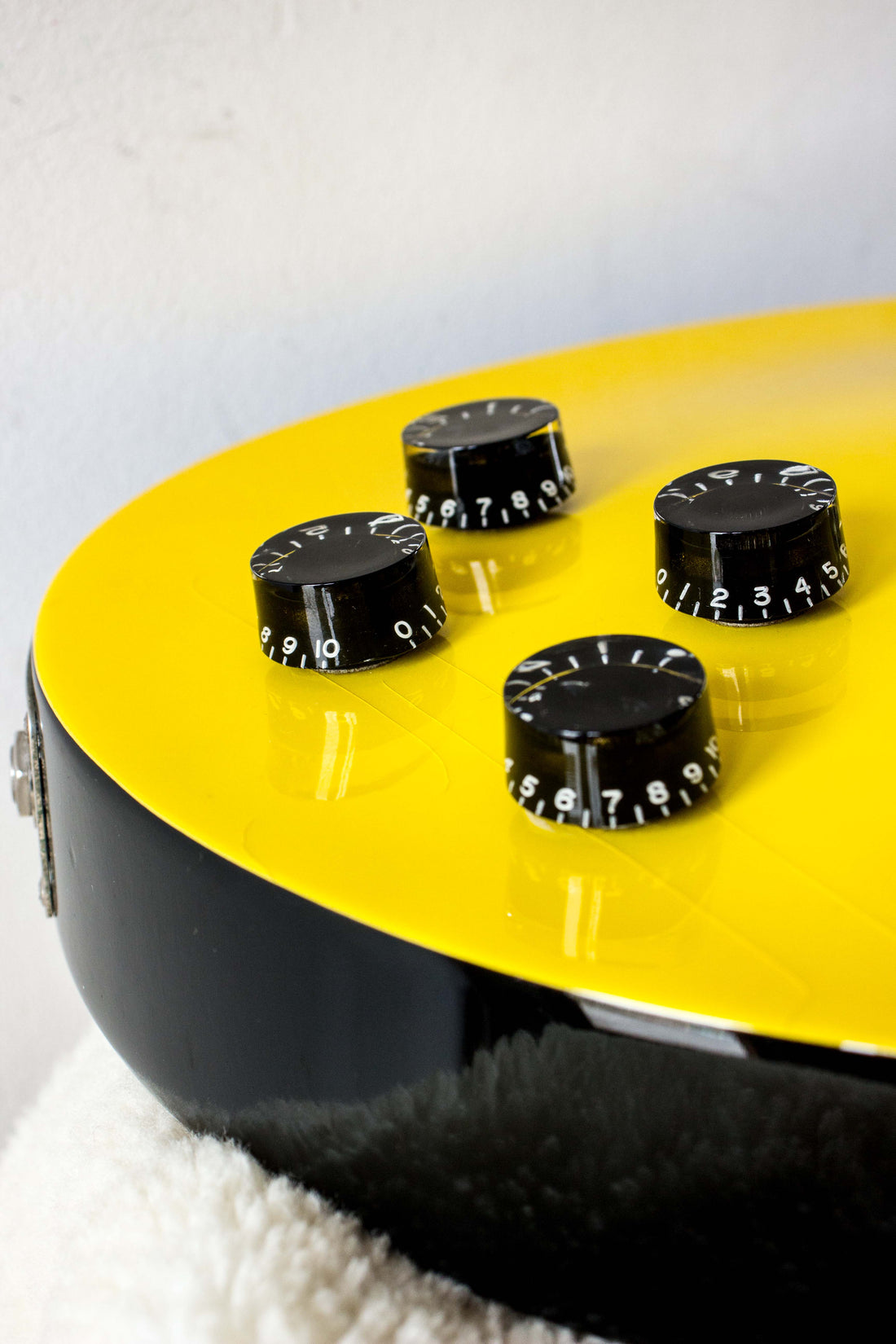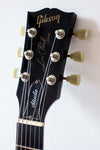 Gibson LP Studio, bright metallic yellow, made in USA 2002. This guitar was part of a limited run made for Gibson's Japanese distributors, Yamano. That explains the outrageous finish: it seems like all the coolest Gibsons end up in Japan! It also means it had to pass an extremely stringent quality control test, as Yamano ran their own QC on Gibson instruments and would send back anything that didn't meet their rigorous standards. By 2002, the LP Studio had morphed back to a full body depth with some light weight relief and regained the vintage Kluson-style tuners; both changes that were very well received compared the previous few years' model. It adds up nicely in the hands: the moderate, round neck is comfortable and precisely made, the ebony board feels magical and luxurious under the fingers, and the weight is moderate enough to be a practical stage guitar. The tone is classic LP: heaps of growl and midrange grit complemented by a tight, thick low end. It's hard to overstate just how visually striking the yellow finish is in the flesh: it absolutely pops! Combined with the ebony board and black sides, this really is quite the visual experience. The pink-plush lined brown case (these can fetch several hundreds sold separately) is a perfectly gaudy bonus. What more is there to say? It's surely the yellowest Les Paul on God's Earth.
Model: Gibson Les Paul Studio
Made: 2002, USA (serial 00012545)
Finish: gloss bright yellow metallic (limited edition)
Body: maple top, mahogany body, lightly chambered
Neck: mahogany with ebony board, 24.75" scale, 12" radius
Weight: 4.020kg
Mods: one tuner (3rd string) replaced with period correct original Gibson replacement part
Pickup: 490R/490T set
Case: original Gibson hard case, excellent quality, very good condition
Bonus: original Yamano import documents and Gibson manual
Cosmetic condition notes: mild finish wear. There's some very minor marks on the end of the headstock. Neck is pretty clean, just some minor rub wear on the back and edges from play. The back has minor, shallow widespread buckle rash scratches, no major marks though. The sides have a handful of dimples on the shoulder area, near the jack and on the bottom horn, nothing nasty. The front has some awesome checking lines near the switch, bridge and pickups and the knobs , as well as some minor dimples near the bridge and some play wear on the guard and top horn; nothing major. Overall: very good condition (8/10).

Playing condition notes: Action is low, neck is straight, intonation is good, truss rod works. Frets have some normal wear but there's plenty of height in them, 7/10 for life left. No headstock breaks or major repairs. Setup with fresh 11/49s and playing beautifully.