(SOLD) Gibson Les Paul Studio T-Series Worn Brown 2017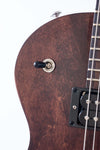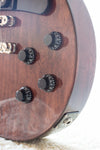 Gibson LP Studio T, worn brown, made in USA 2017. Mmmmmmm... hot chocolate. This model was a shortlived version of the LP Studio with a thin satin nitro finish on the back and sides and a thin gloss finish on the top and neck. Combined with an earthy cocoa brown stain, the look is understated and tasty. It's  light and sprightly in the hands with an easy slim 60s neck; there's a lot to like. The tone has the classic LP growl and grit; the thin finish let's the wood sing truly and adds a certain warmth and flavour. There's something about this that encourages big, enthusiastic rhythm playing; it really eats that up greedily. If you're more impressed by a thick, saucy tone than fancy flame tops, pearl inlays and double binding, this might just the LP for you. 
Model: Gibson Les Paul Studio T-Series
Made: 2017, USA (serial 170077774)
Finish: Worn Brown
Neck: mahogany with rosewood board, 24.75" scale, 12" radius
Weight: 3.515kg
Mods: none
Pickup: Burstbucker Pro set
Case: original Gibson deluxe padded gig bag
Cosmetic condition notes: mild finish wear. Headstock has some minor scuffing on the end. Neck has some glossing from play but no major marks. The back has no major marks, just a couple of very light scratches near the switch cover and top shoulder. The sides are very clean; a couple of minor dimples on the top shoulder but otherwise pretty clear. The front is also very clean, just some very minor scuffs behind the bridge, a couple of very light scratches around the outside edge on the shoulder and some normal play scratches on the guard and horns. Overall: excellent condition (9/10).

Playing condition notes: Action is low, neck is straight, intonation is good, truss rod works. Frets have very little wear, they look basically new; 9/10 for fret life left. No headstock breaks or major repairs. Setup with fresh 10/52s Moonshiners strings.