(SOLD) Gibson Les Paul Traditional Heritage Cherry Sunburst 2010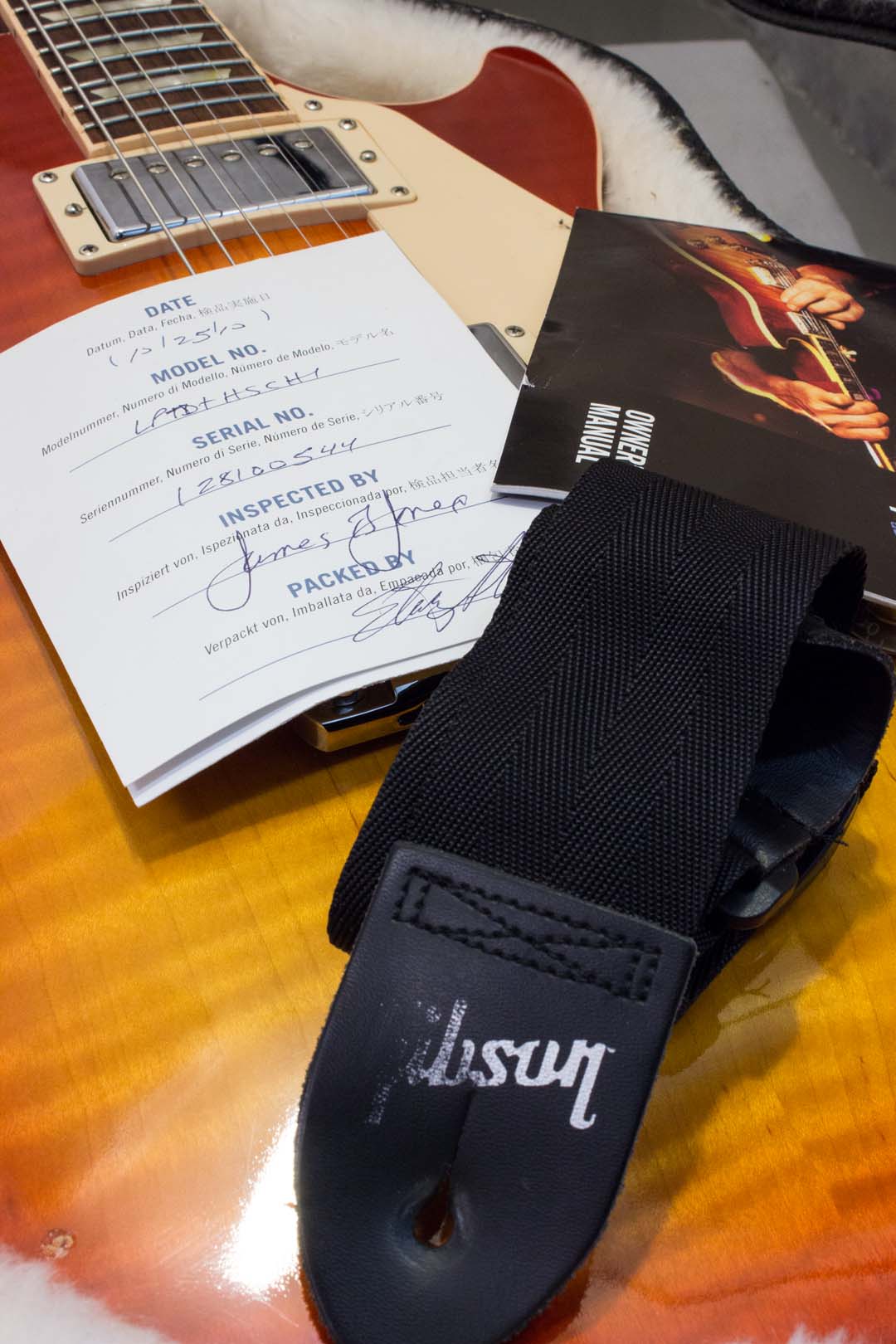 Gibson LP Traditional, cherry sunburst, made in USA 2010. If you've got strong notions of how a Les Paul 'should be', you're gonna love this. Gibson launched the LP Trad in 2008 as a vintage spec model, but with a little bit of weight relief. That means you get some good stuff: a chunky '58 style neck profile, ABR-1 bridge, a gorgeous slab of maple on the top and a pair of Classic '57 pickups. These are Gibson's best standard humbucker in my arrogant opinion; they sound superb. There's heaps of chime and sparkle through the top end, which is paired with a wide, complex midrange with heaps of attack and immediacy and a full, satisfying low end. The neck pickup is gooey and warm but with enough definition to cut through; the bridge is snarling and snappy but with enough heft to shake the floor. The neck is pretty chunky, which contributes to the fullness of tone in the top and mids, but also means you choose your notes a little more carefully, so... you play better, perhaps. The top looks plain on some angles and very, very flamed on others... it's got a lovely depth and mystery to it. It's pretty hard to dislike this, it's a juicy little rock and roller with a healthy dose of old world charm.
Model: Gibson Les Paul Traditional
Made: USA, 2010 (serial 128100544)
Finish: heritage cherry sunburst
Body: mahogany, chambered, flame maple top
Neck: mahogany, rosewood board, 24.75" scale, 9.5" radius, chunky '58 profile
Weight: 4.300kg
Mods: none
Pickups: Gibson Classic '57 humbucker (neck), Classic '57 Plus humbucker (bridge)
Case: deluxe Gibson black snakeskin hard case, inc. original docs
Cosmetic condition notes: minor finish wear. Headstock has a couple of dimples on the end. The neck is clean and smooth, minor dimples on the back only. The back has a few light scuffs in the middle and on the cavity cover, no major marks. The sides have a small ding in the elbow area and some light scuffs on the bottom horn and near the jack. The front is pretty clean, just some minor dents in the elbow area, a couple of scuffs around the knobs and some play wear on the guard and horns. Overall: very good condition (8/10)

Playing condition notes: Neck is straight, action is low, intonation is good, truss rod works. All electrics tested and working properly. Frets have a little wear, but there's heaps of life in them and they're pretty even, 7/10 for fret life left. No headstock breaks. Wearing fresh 10/52 Moonshiners strings.