(SOLD) Used Fender Jazz Bass '62 Reissue Aged Vintage White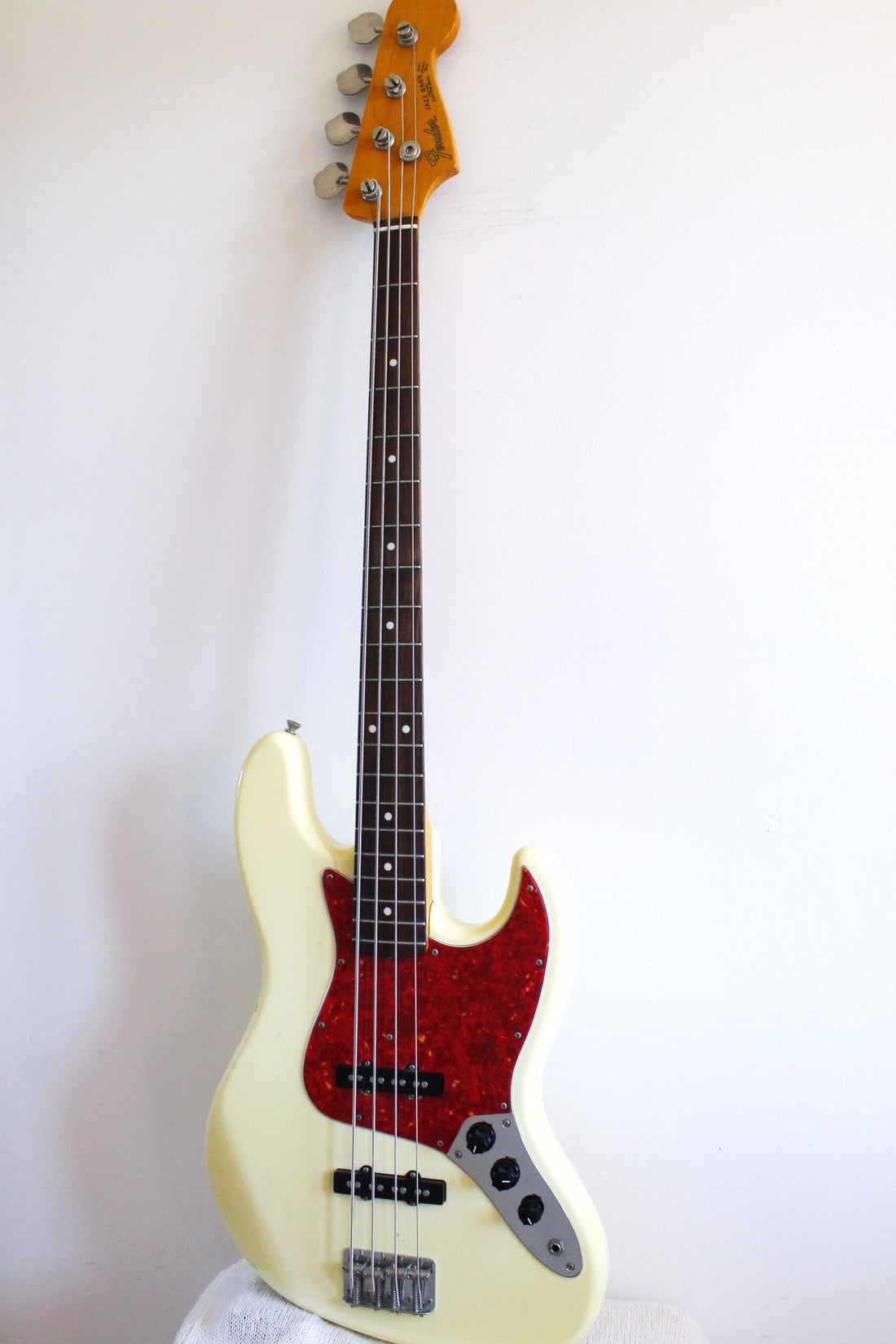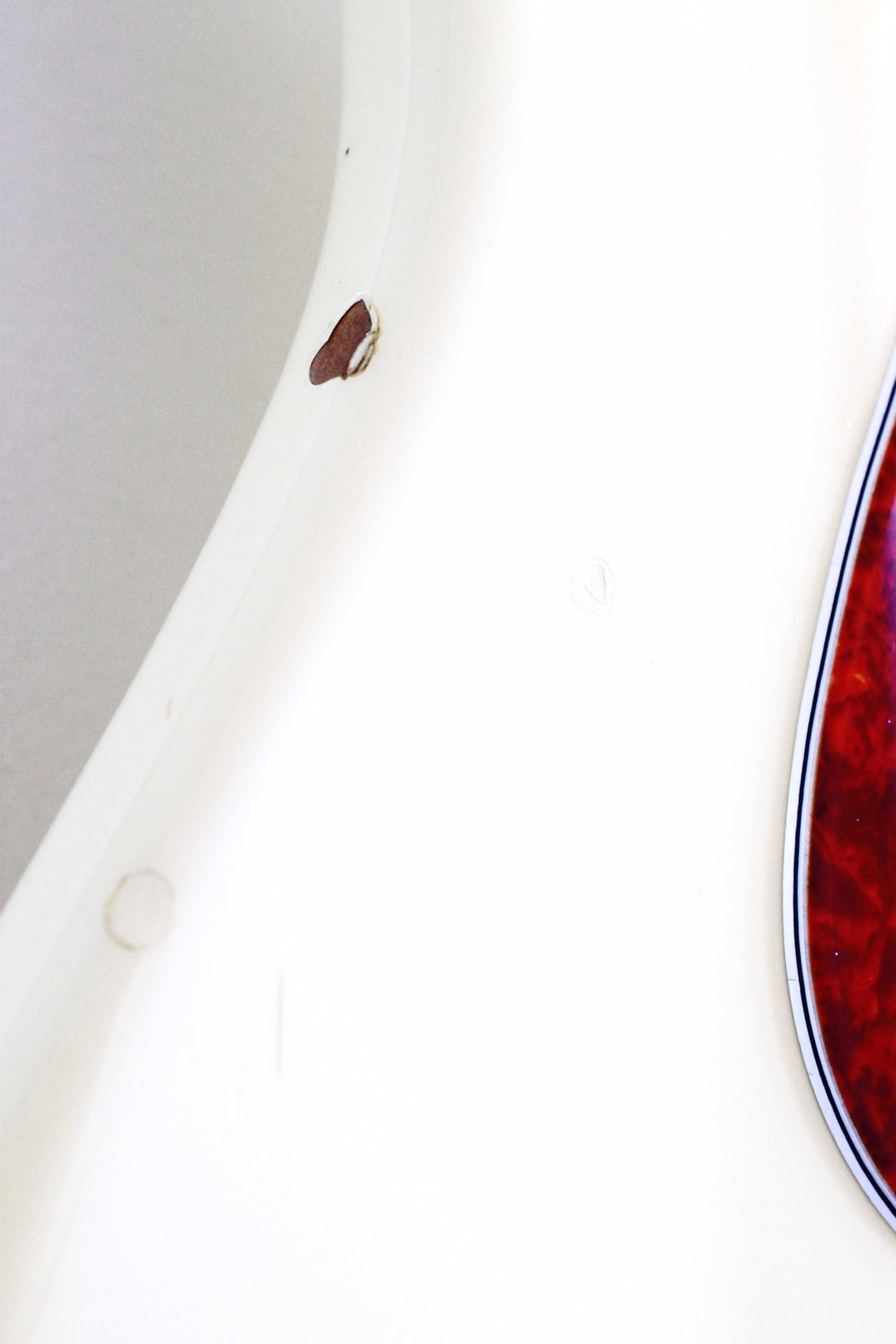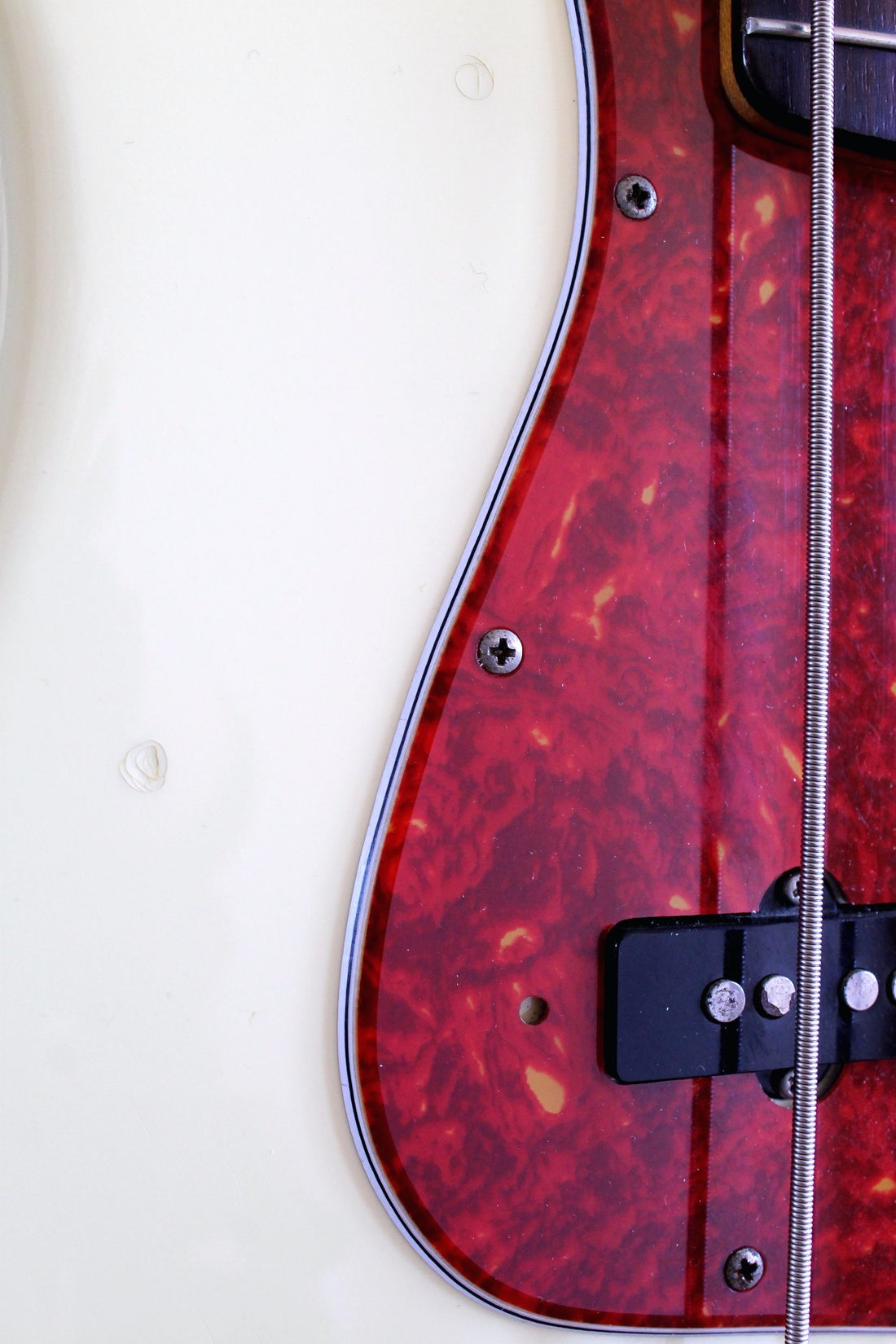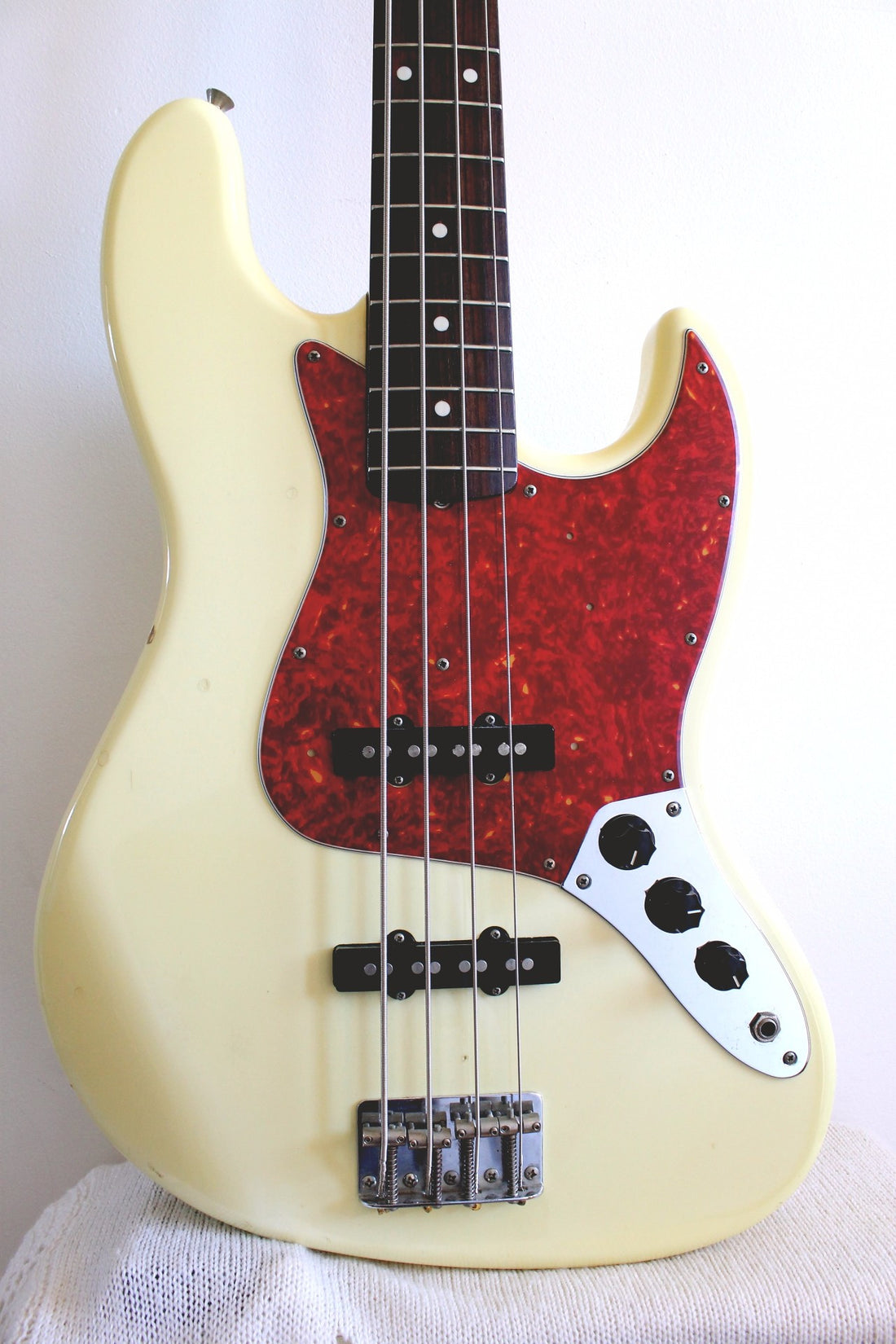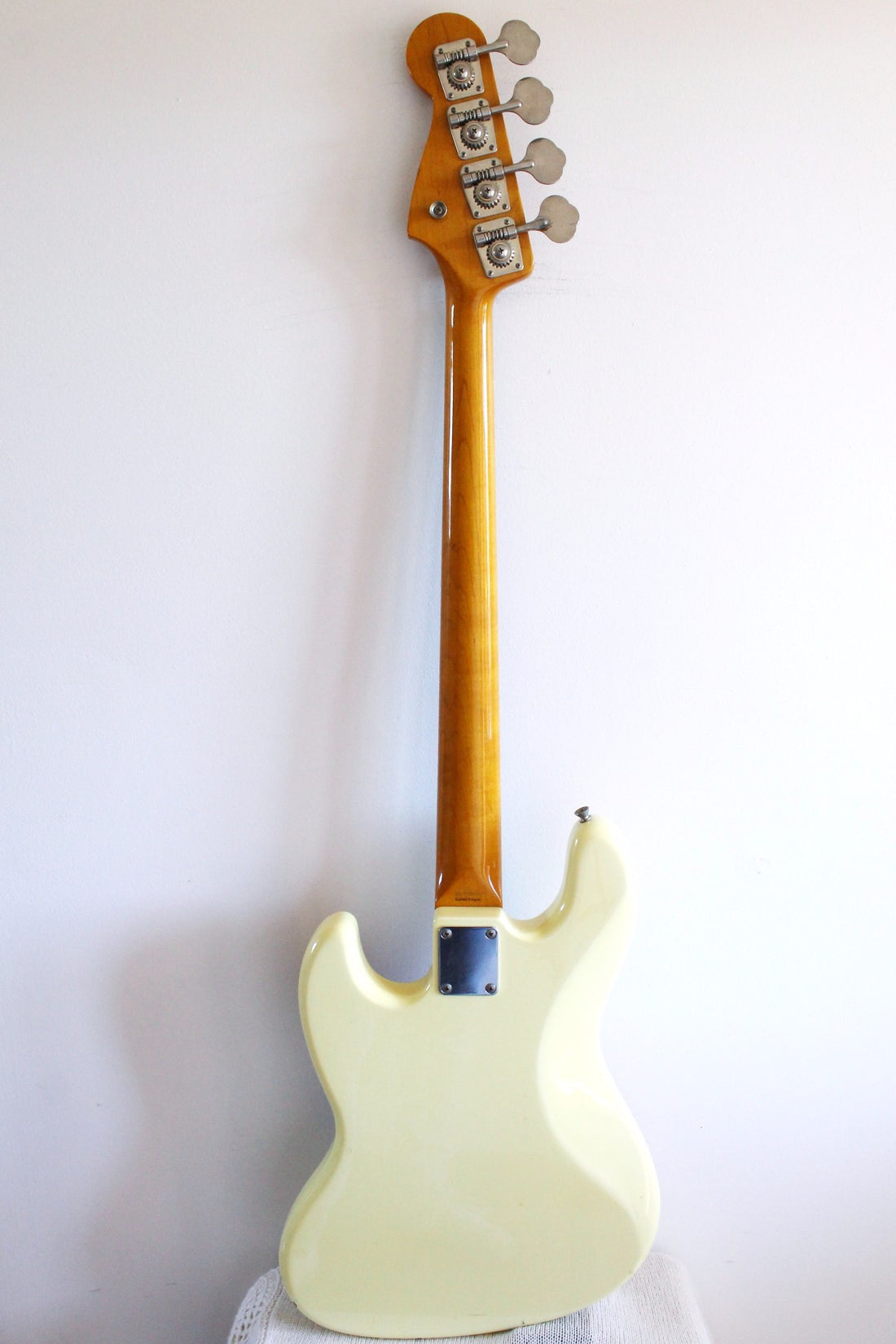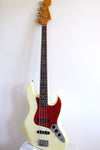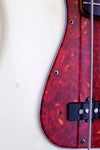 Fender J bass, aged vintage white, made in Japan 1997-00. This is cool! The vintage white finish started life as an off-white/cream colour, but it 20ish years it's yellowed considerably to a buttery delicious hue, offset nicely by the tort guard and pretty grain on the rosewood board. The neck and headstock have mellowed to a golden-syrup colour. She packs the classic J definition and punch, with plenty of growl and thump instantly available when you dig in. The neck is slim and quick, it's nicely played in and you can feel the resonance in both neck and body. This is a tasty J, you really can't go wrong here.
Model: Fender Jazz Bass, '62 reissue (JB62)
Made: Japan, 1997-00 (serial O039072)
Finish: vintage white (yellowed with age), 3-ply tort guard
Body: alder (best estimate, possibly basswood)
Weight: 4.1kg
Neck: maple with rosewood board, dot inlays
Mods: none
Pickup: Fender Vintage JB
Case: very awesome faux leather Fender branded gig bag
Cosmetic condition notes: Minor finish wear. The body has a few dings and scratches, the biggest are on the side of the body above the neck pickup and a few around the bottom near the jack, see the pics. There's some normal play-wear on the guard and the chrome parts have aged nicely to a slightly worn look. The board and neck are in great condition. Overall: good condition (7/10).
Playing condition notes: Action is low, neck is straight, intonation is good, truss rod works. Frets have minor wear but heaps of life left (8/10). All electrics tested and working properly. Set up with 55/110s. Slick player with heaps of thump!