(SOLD) Used Fender Stratocaster '57 Reissue Black Dimarzio Collection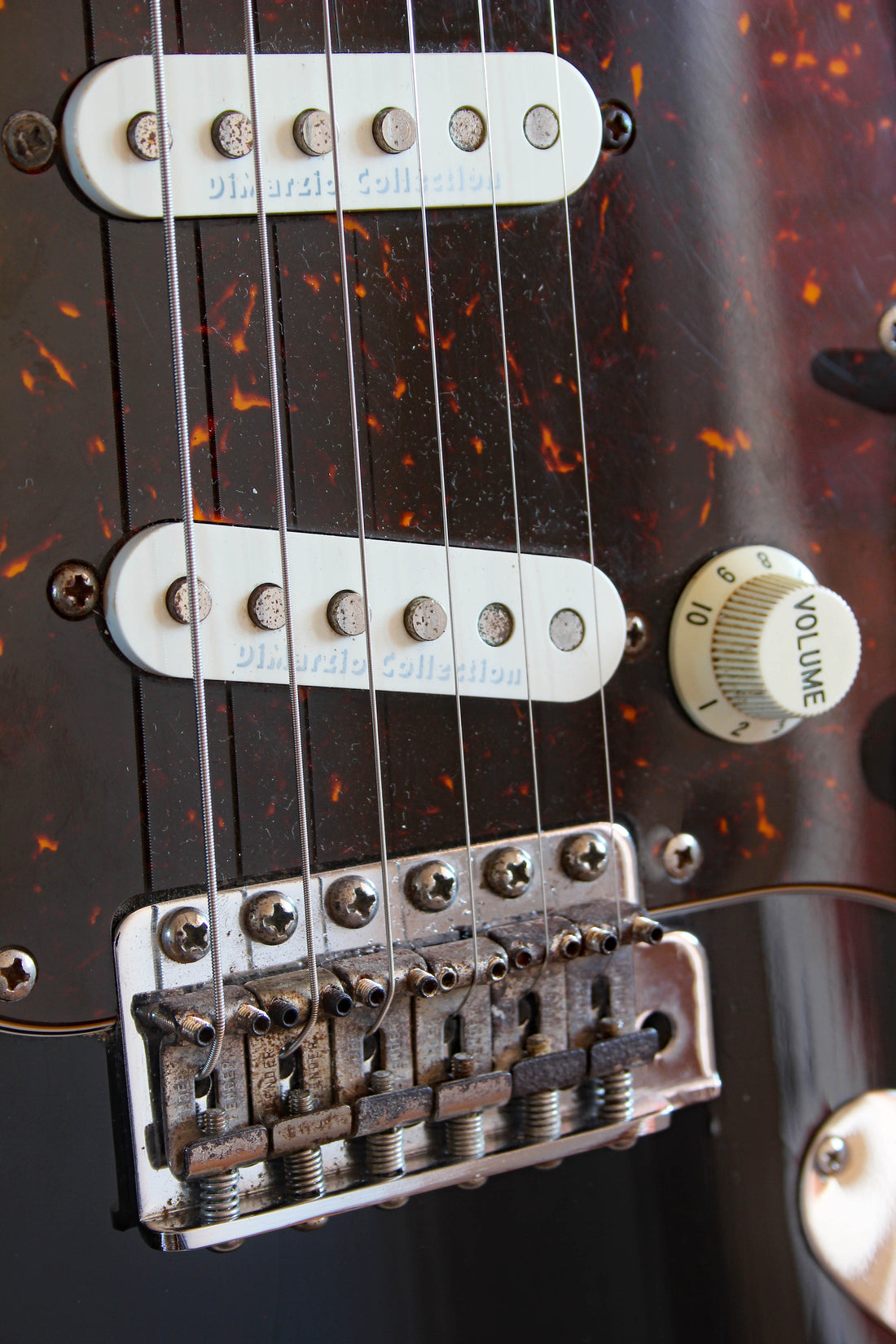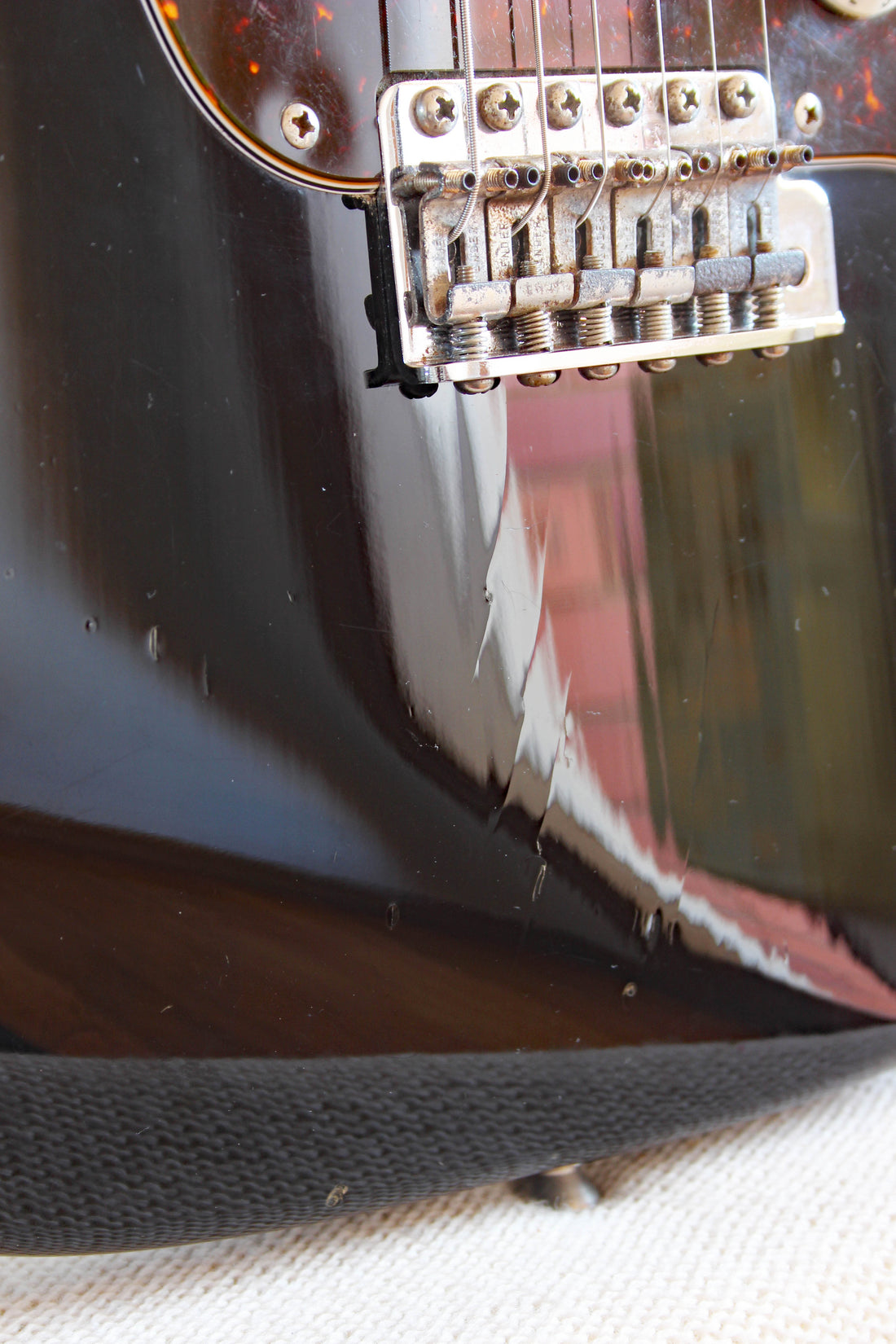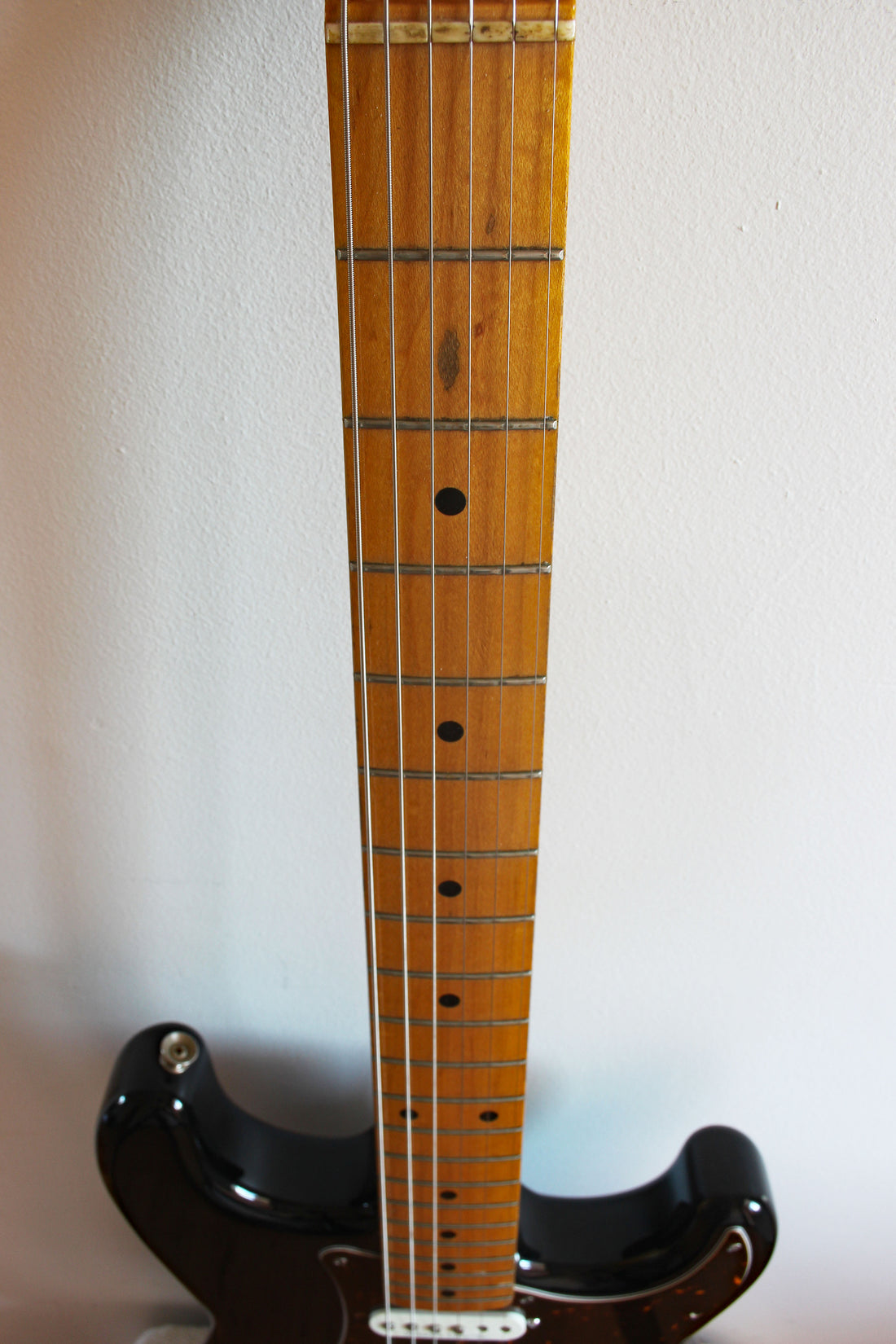 Fender '57 style Strat, black with maple board and a tort guard, made in Japan 1994/5. This one has plenty of attitude! The factory-fitted Dimarzio passive singles are a bit like Texas Specials, they're clear and defined with slightly 'scooped' tone, they love a bit of overdrive and are easy to like. The finish has plenty of wear to show for it's 22+ years, including the beginnings of some checking; you can see the black seeping into the grain in certain lights. The maple board is awesome, it's perfectly aged to a olden hue and feels exceptional under the fingers. The aftermarket guard has a couple of extra holes, but it looks cool. Great MIJ Strat with heaps of mojo!
Model: Fender Stratocaster, '57 Reissue, Dimarzio Collection (ST57DMC)
Made: Japan, 1994-95 (serial S008026)
Finish: black, 3-ply tort guard, white pickups etc
Body: basswood
Neck: maple with maple board, dot inlays
Mods: tort guard is non-original (has extra holes)
Pickups: 3 x Dimarzio passive ST singles
Case: none
Cosmetic condition notes: moderate finish wear. There's a few scratches and gashes on the back, mostly behind the tremolo. The bottom, near the input jack and around towards the stratp pin, has some proper dents, scuffs, scratches and gashes. The front of the body has some minor checking behind the bridge and plenty of little dimples. Chrome parts are corroded but working, guard has some play wear, plastics aged. Board has some play wear nut is in good shape, it's a great colour. Overall: fair to good condition (6.5/10)
Playing condition notes: Action is very low, neck is straight, intonation is good, truss rod works. All electrics tested and working properly. We replaced a couple of the stamped saddles with some spares from a similar model, the whole lot of them have seen better days but are functional and adjustable. Frets have some wear, it's noticeable but there's plenty of life left, 7/10. Great sounding Strat!