(SOLD) Used Squier MIJ Jagmaster HH 1997 Vintage White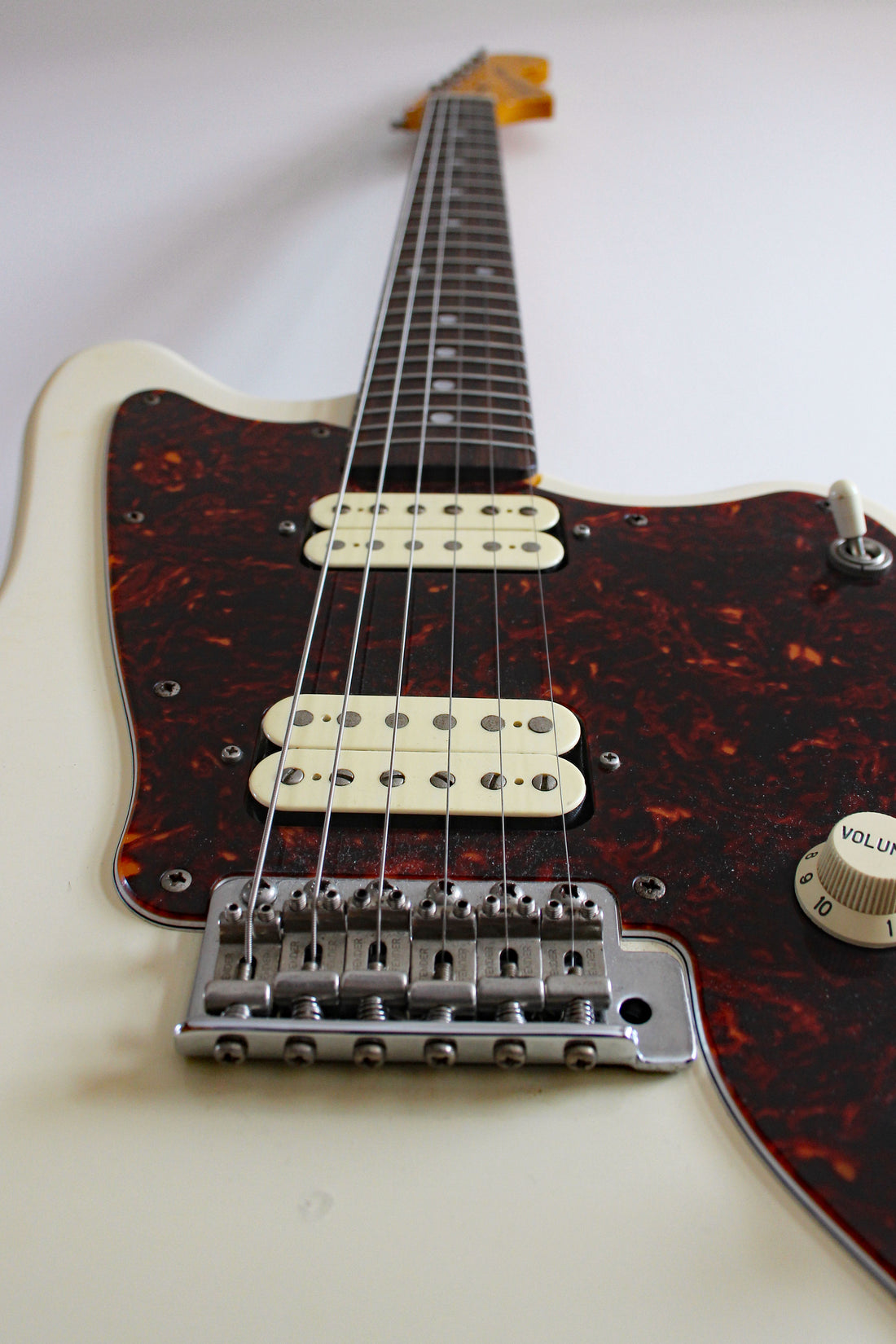 Japanese made Squier Jagmaster in vintage white, 1997. If you like the 24" scale and super comfy shape of a Jag, but want a no-fuss Strat style bridge and simple three-way-switch-only electronics, this is the rare-bird you need to meet. These really aren't common; they were only made in Japan 96-98 before disappearing and then popping back up as a less-good Chinese reissue years later. The 90s MIJ Squires are renowned for exceptional quality, and this one is a perfect example: amazing neck, perfect fretwork, dark rosewood board, Fender stamped saddle bridge... it all feels solid, reassuring and super tidy. The pair of humbuckers have a nice moderate output, perfect for big rhythm parts and creamy leads. This body is perfectly balanced and extremely comfortable, and that aged vintage white and tort combo... gosh she's a beauty. This reflects the decade from which it came; it's a no-nonsense rock-machine with attitude to burn.
Model: Squier Vista Series Jagmaster, second run
Made: 1997, Japan (serial A013713)
Finish: vintage white, 3-ply tort guard, cream pickups/knobs
Body: basswood
Neck: maple with rosewood board, dot inlays
Mods: none
Neck & bridge pickup: Duncan Designed humbucker, moderate output
Case: none
Cosmetic condition notes: Mild finish wear. There's some chips in the lacquer on the side of the body near the rear strap pin and input jack. as well as a few minor dimples here and there. Chrome parts have discoloured but they're all working fine, the stamped saddle bridge is looking good. Some normal play-wear, but for 20 years old, very clean. Overall condition: good (7/10)

Playing condition notes: Action is low, neck is straight, intonation is good, truss rod works. All electrics tested and working properly. Minor fret wear but heaps of life left, maybe 7/10. The necks on these are superb, this is a great player!