(SOLD) Used Squier Stratocaster Silver Series Black SST33 1992/93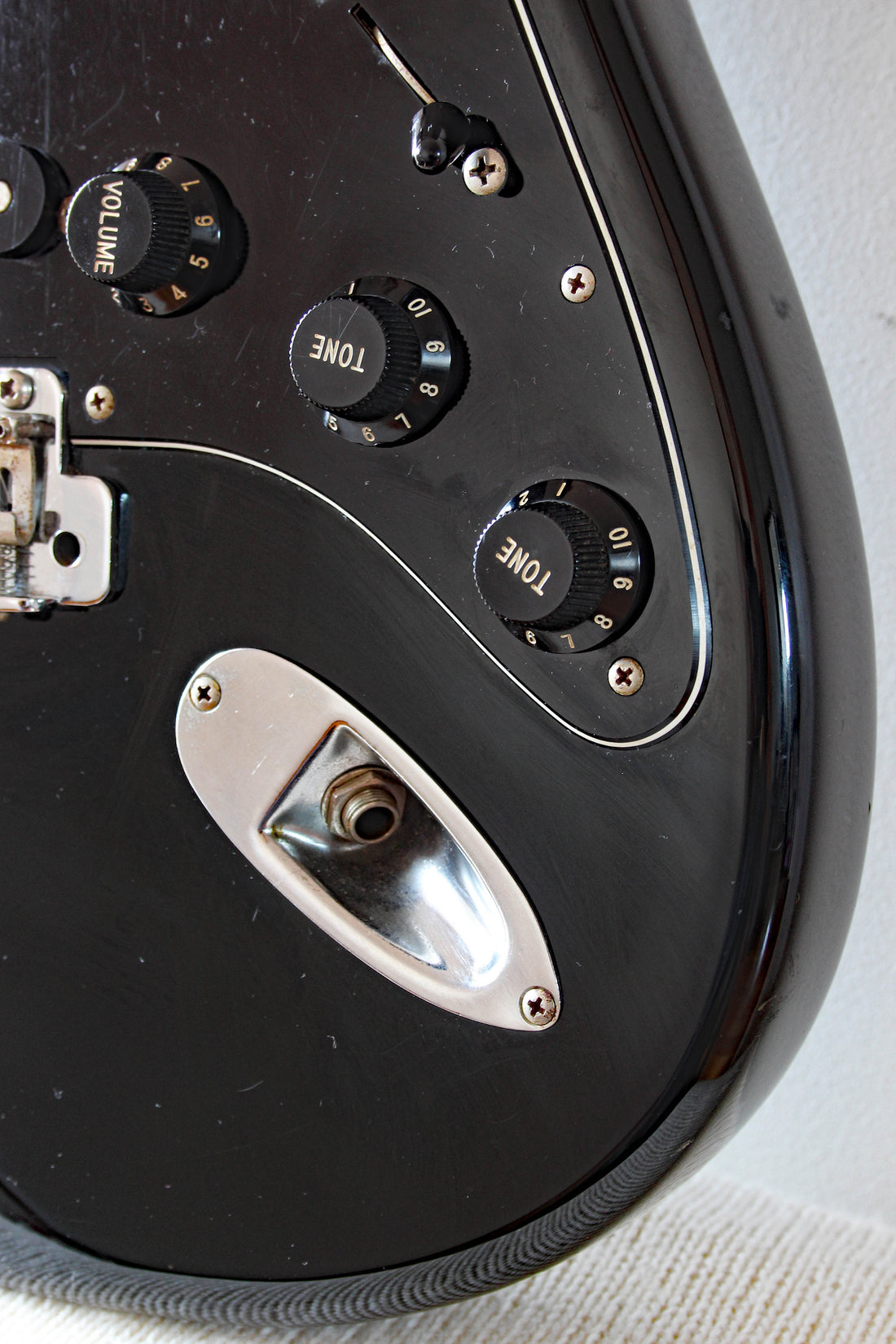 Squier SST33 Silver Series Strat, made in Japan in 1992/93 in classic black-on-black. The Silver Series heralded a return to Japanese manufacturing for Squier, and were very well received at the time owing to the excellent build quality from the legendary Fujigen factory. The maple board is looking amazing with a whole heap of natural wear, what a stunner! The alder body and stock pickups pull a great Strat-tone with plenty of attack and warmth, it really punches out a great lead tone. These are a great quality no-frills players' guitar, and they're increasing in value as the decades wear on. Great addition to the family!
Model: Squier Silver Series Stratocaster, SST33-M model
Made: Japan (Fujigen Gakki) ,1992/93 (serial M020610)
Finish: gloss black, black 3-ply guard
Body: alder
Neck: maple with maple board, dot inlays
Mods: none (Gotoh machine heads are standard on this model)
Pickups: original Squier factory ST style ceramic
Case: basic gig bag
Cosmetic condition notes: Moderate finish wear. The body is pretty clean, there's a handful of scratches and dimples on the front and back but nothing very dramatic. The back plate is missing, and there's some play-wear on the guard. The bridge and tuners have some minor pitting but all work fine. The board has some proper play-wear, it's looking super cool. Overall: good condition (7/10)
Playing condition notes: Action is low, neck is straight, intonation is good, truss rod works. All electrics tested and working properly. Frets have some wear including minor pitting, but there's plenty of height for a fret-dress in due course, it doesn't need one right away (6/10). Setup with fresh 10/46s and feeling great.