(SOLD) Yamaha SG-5A Flying Samurai Pearl Blue 1968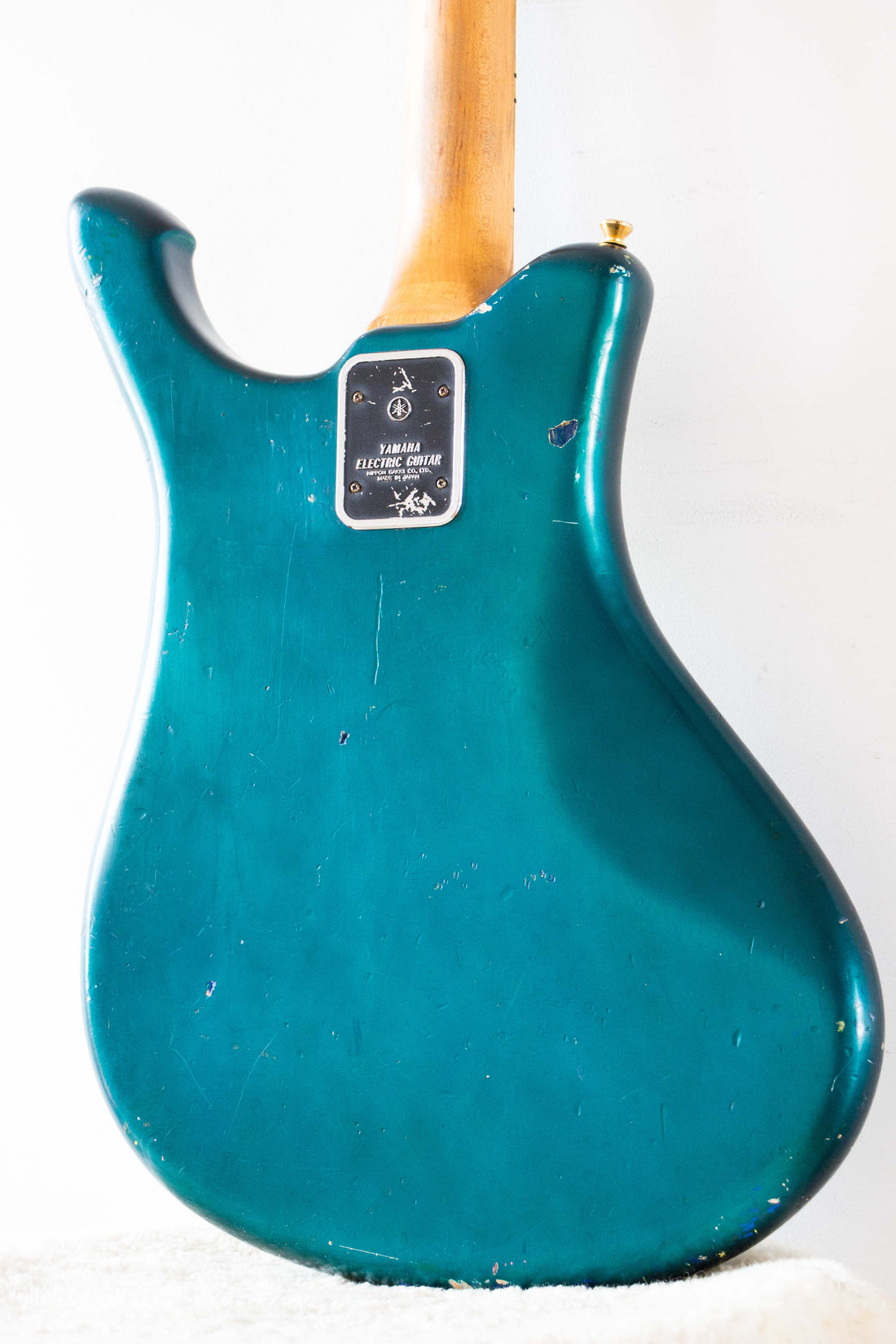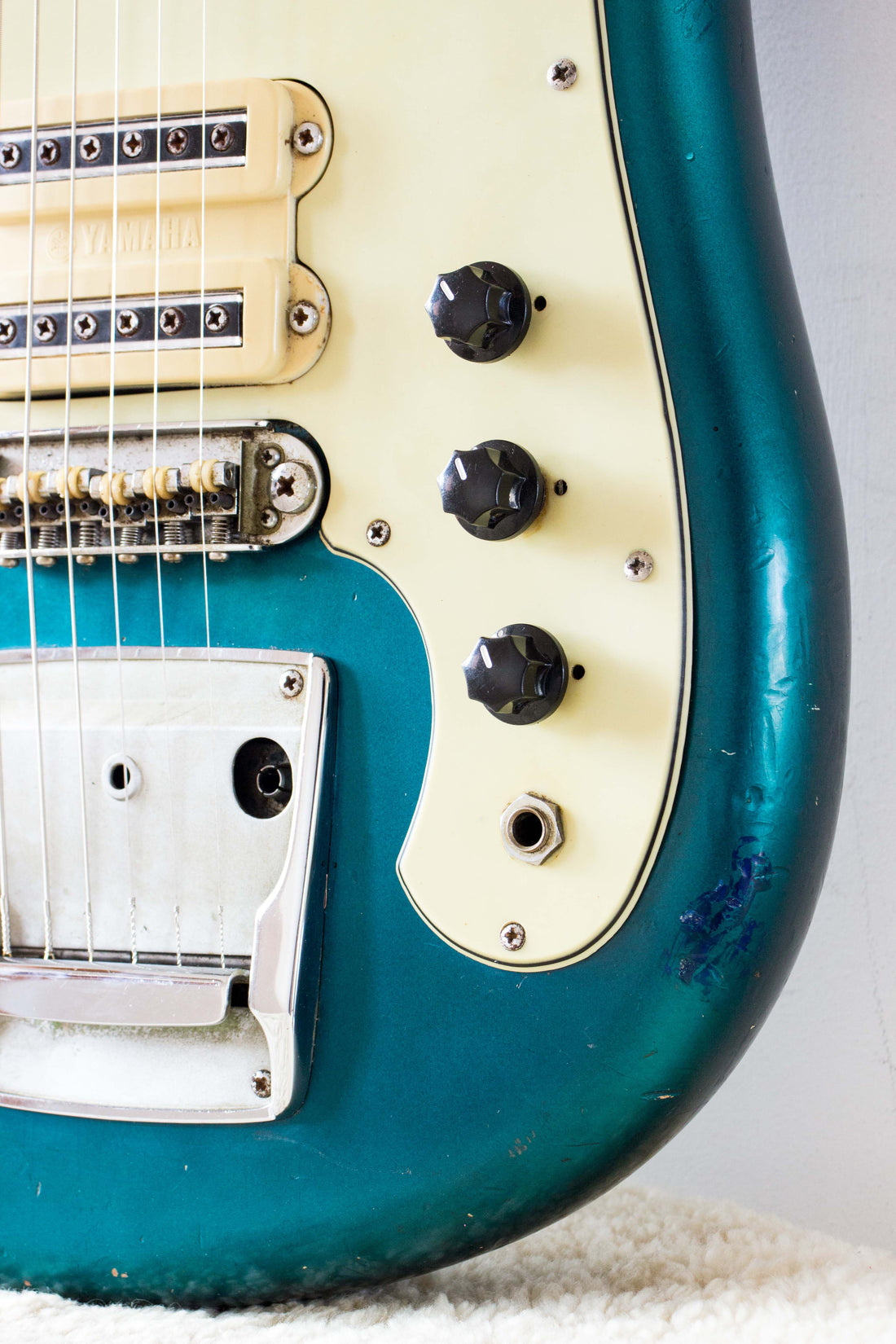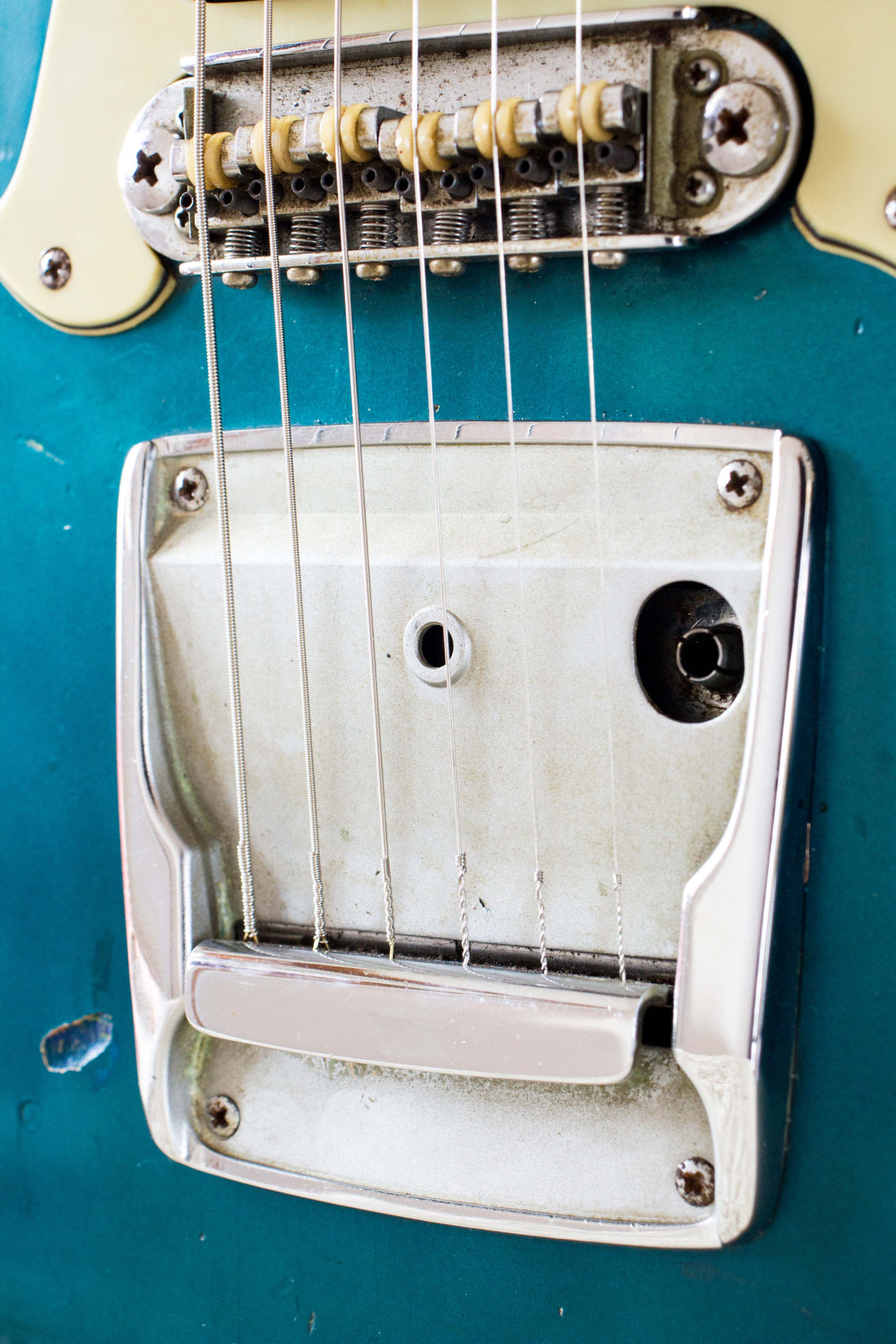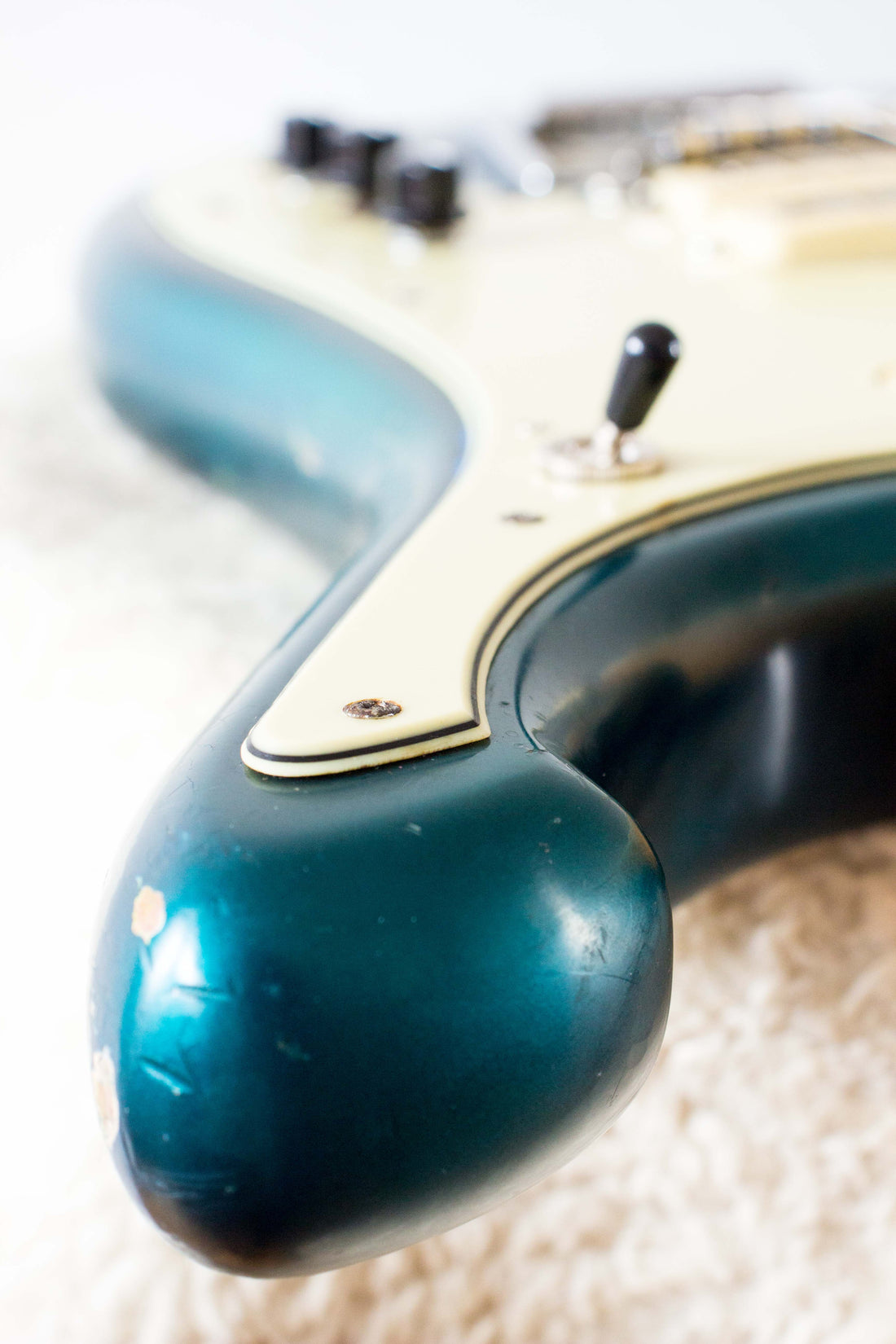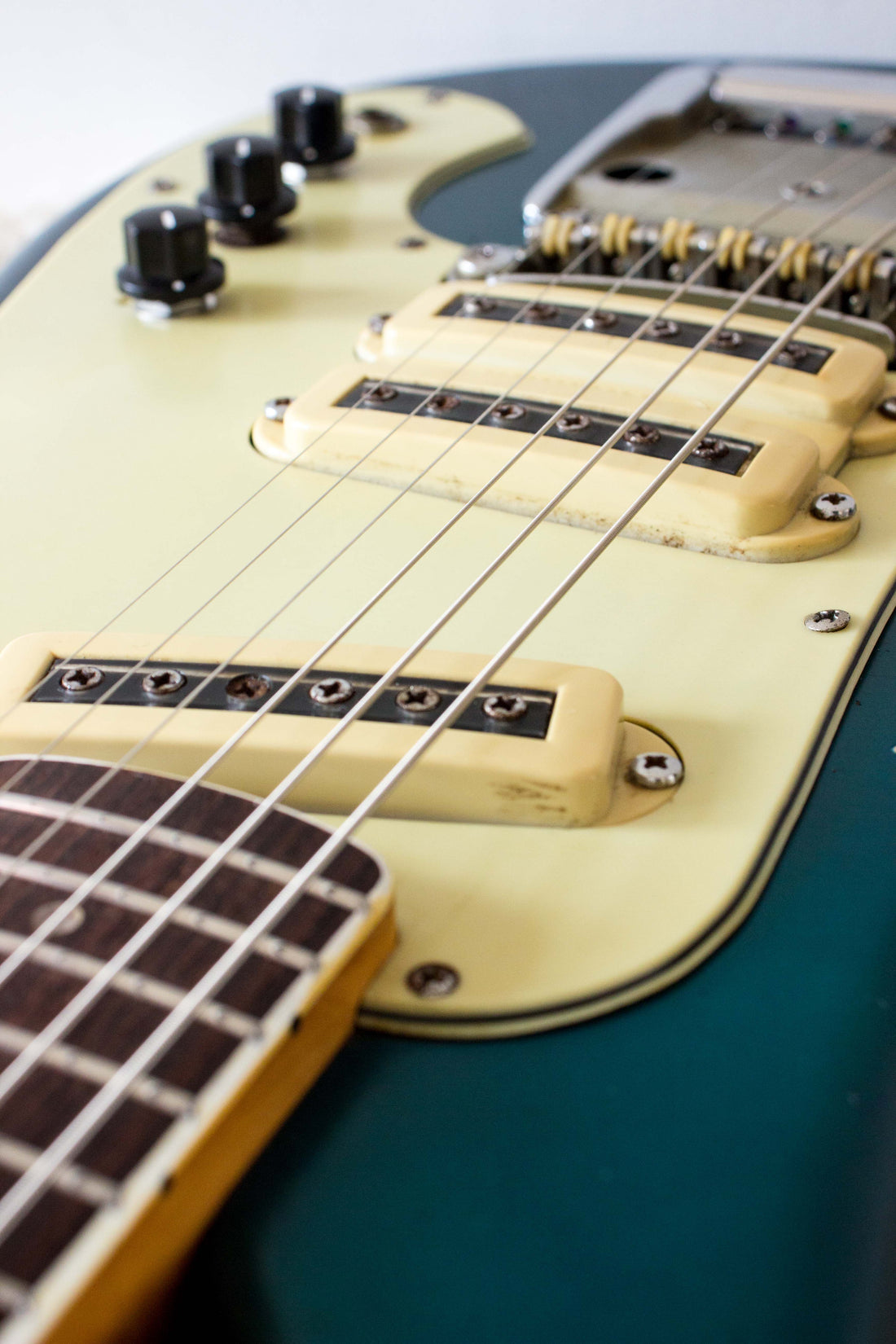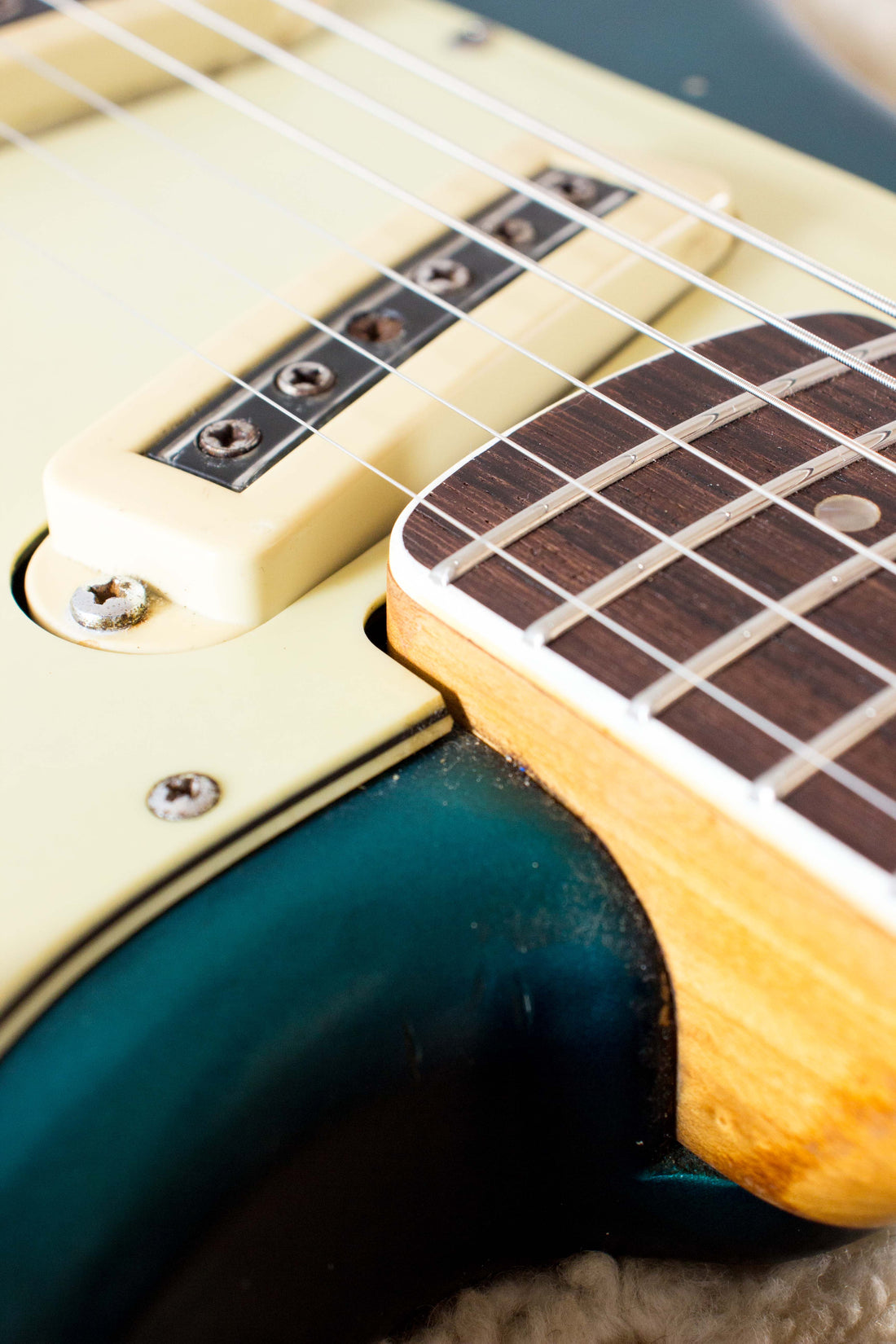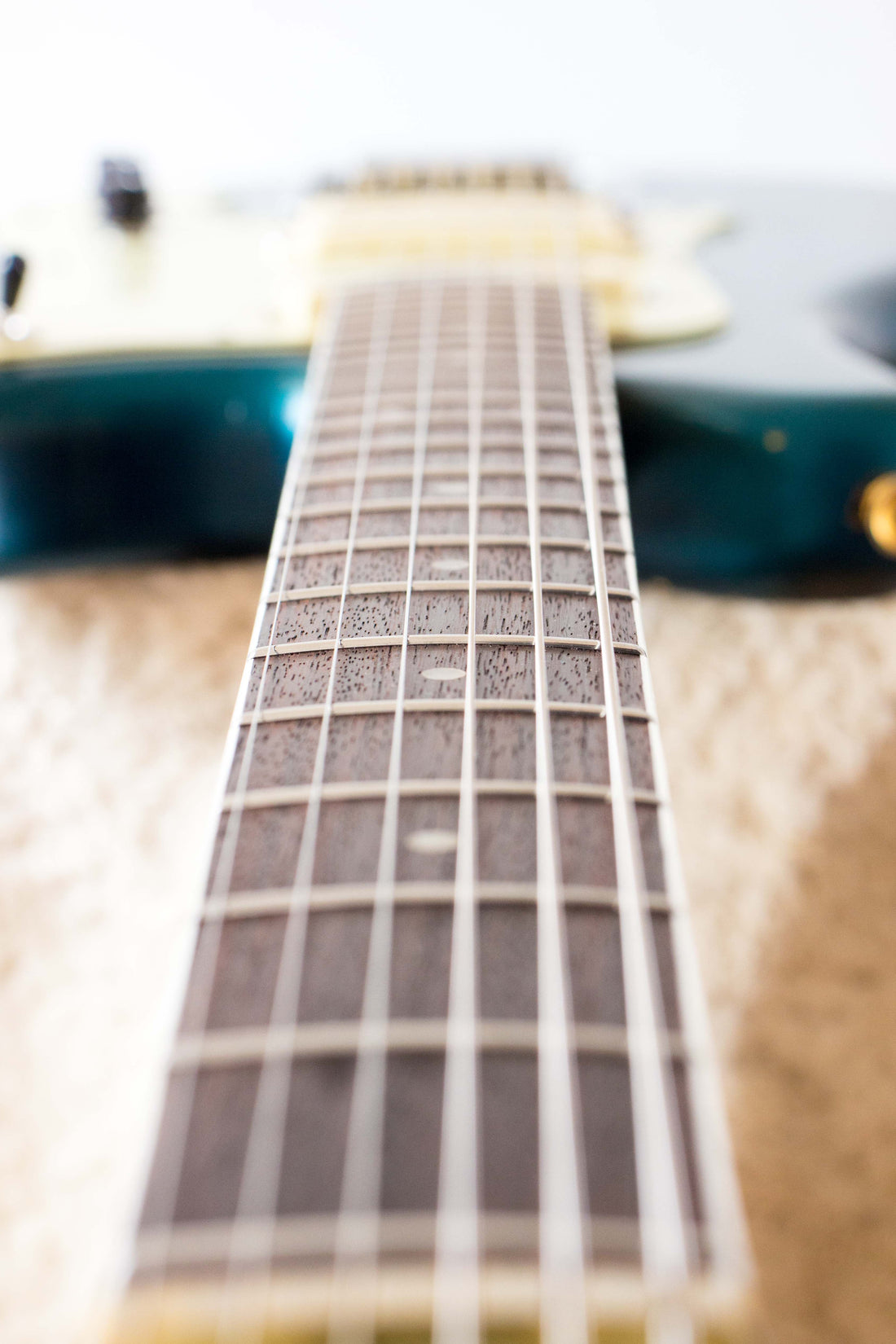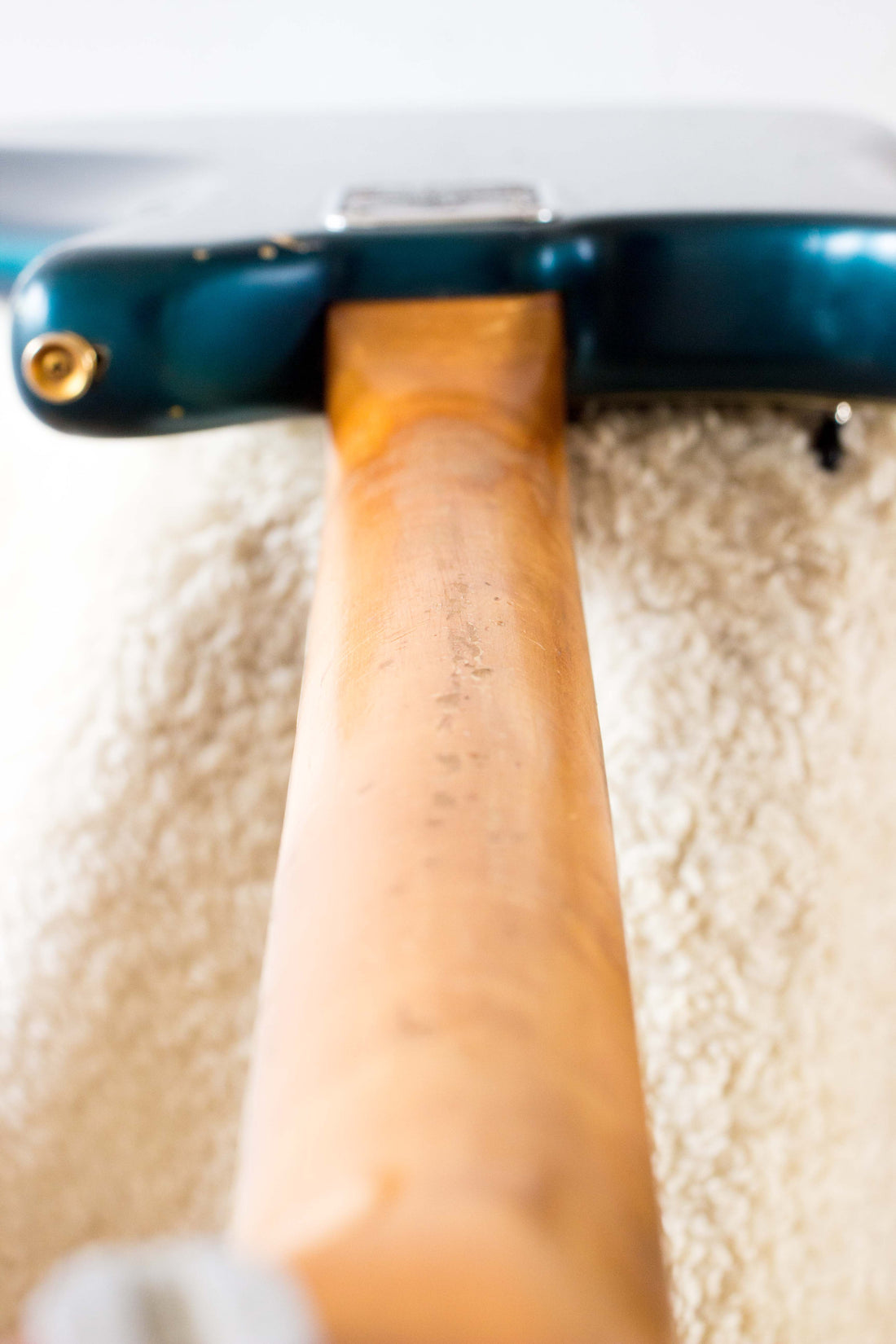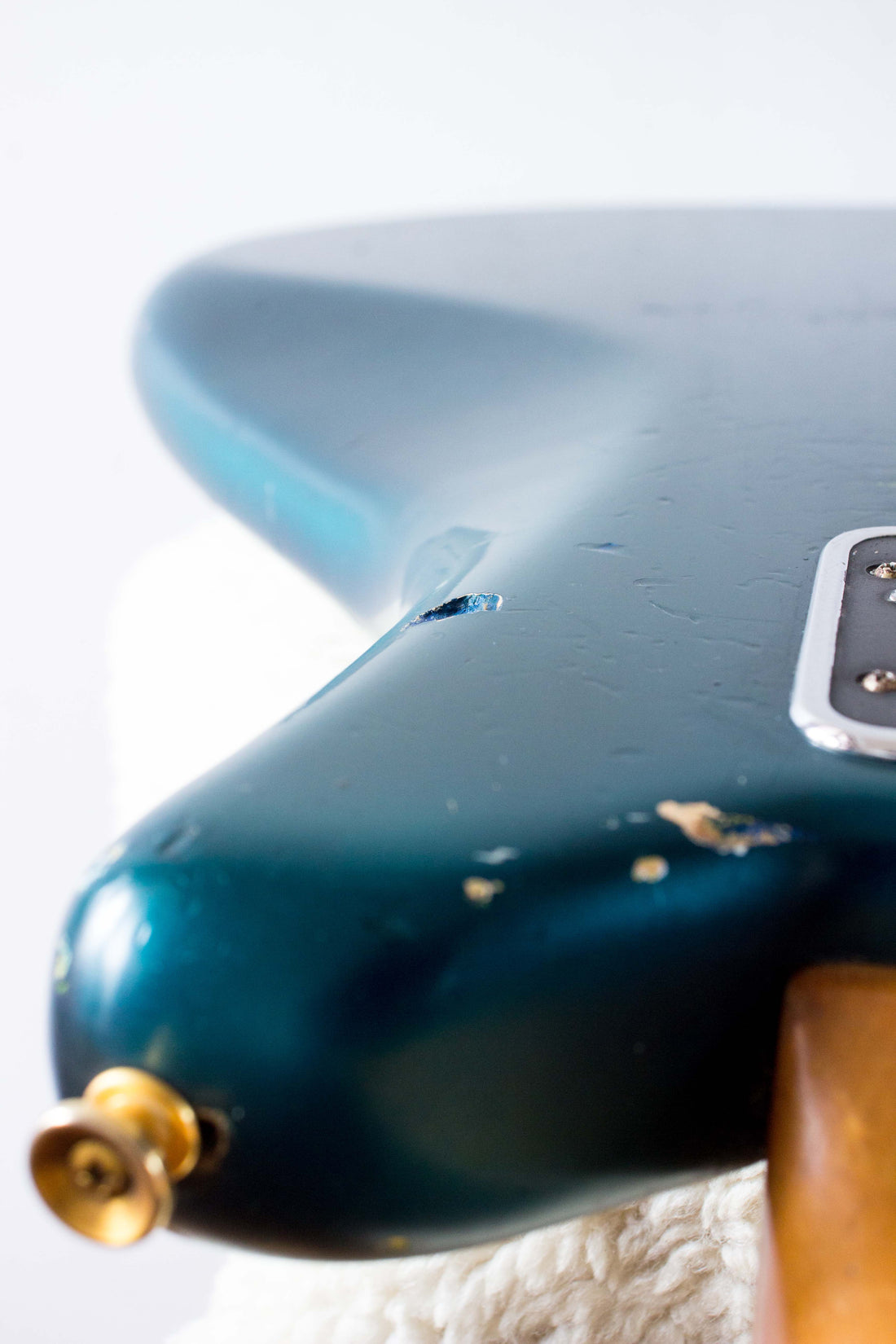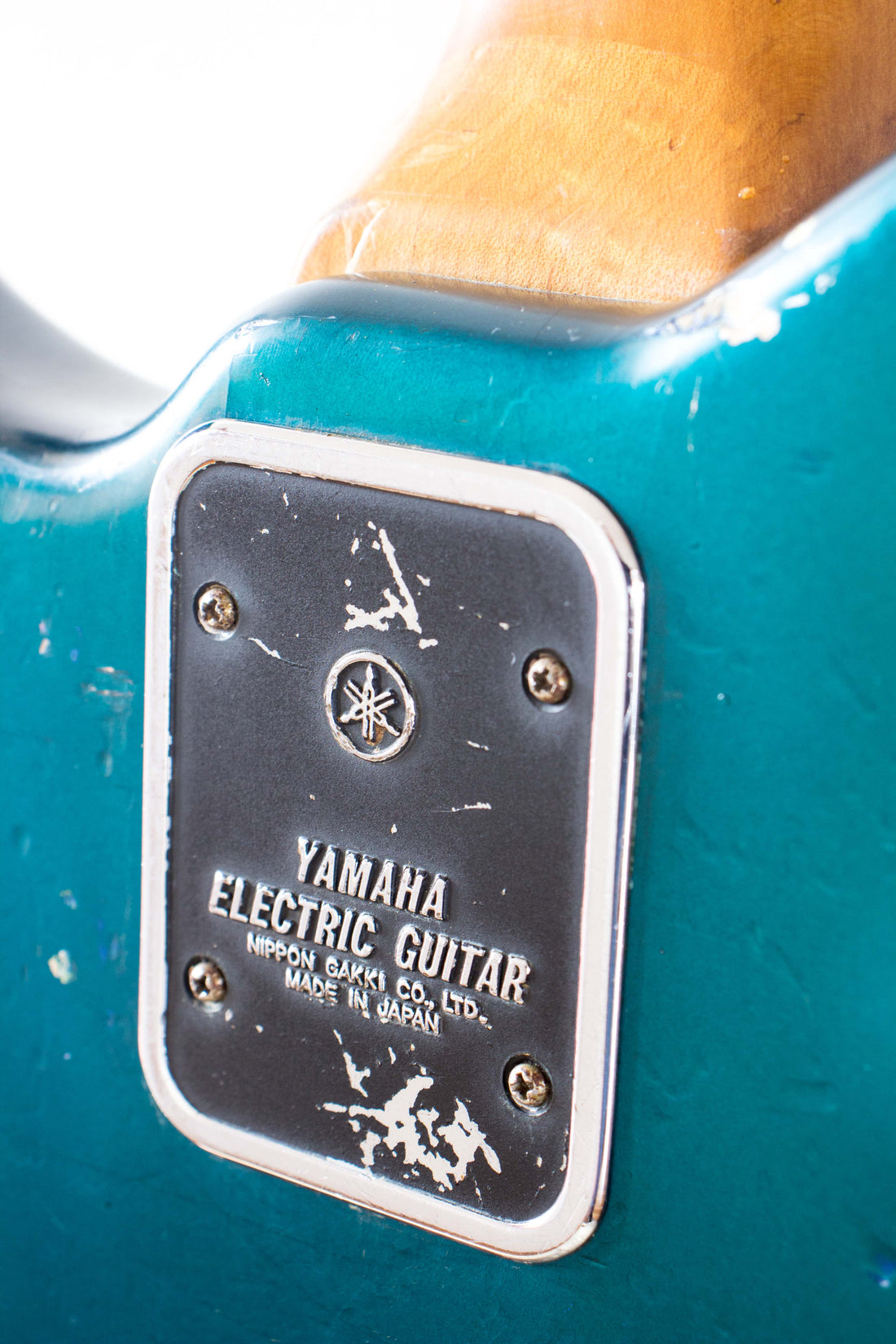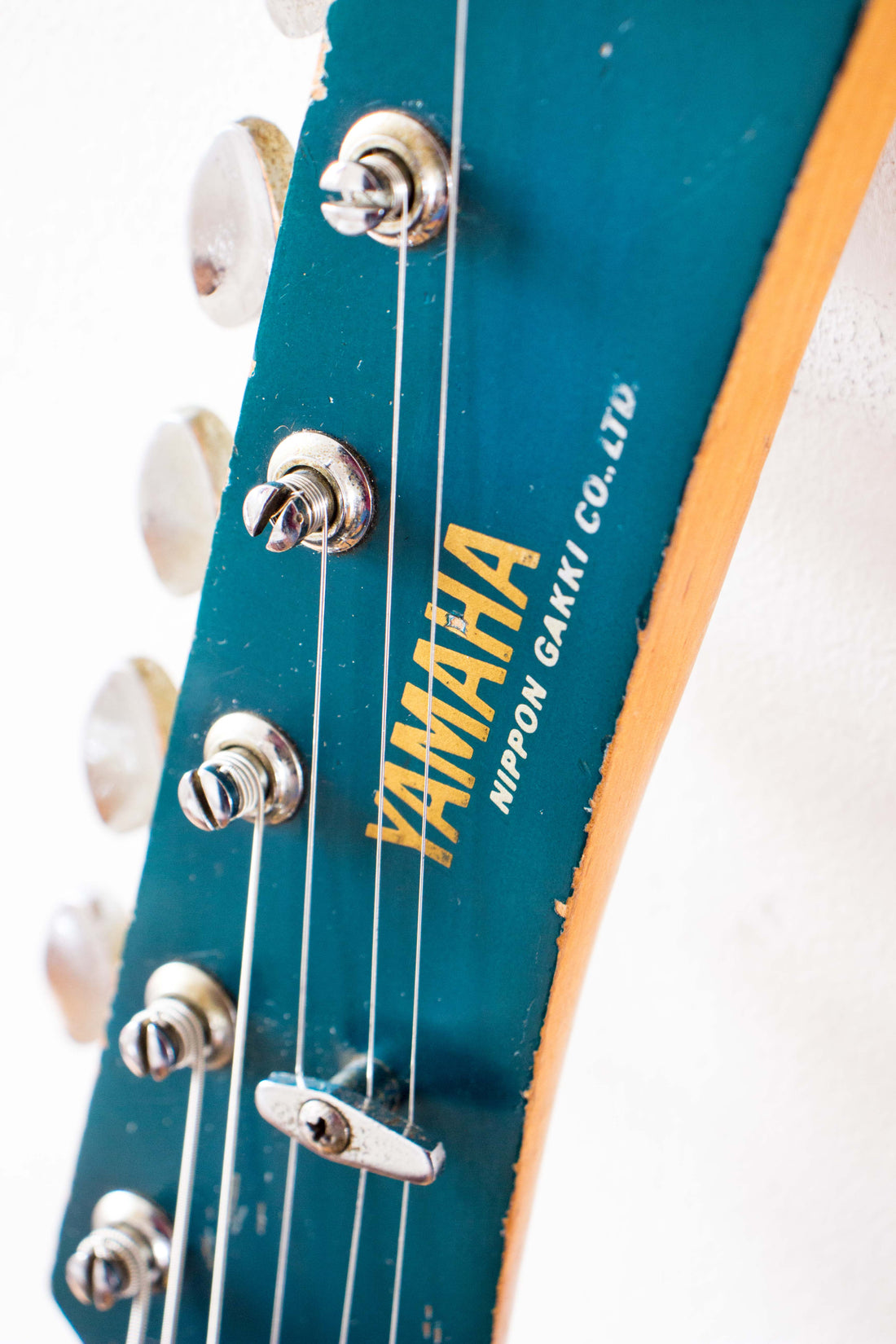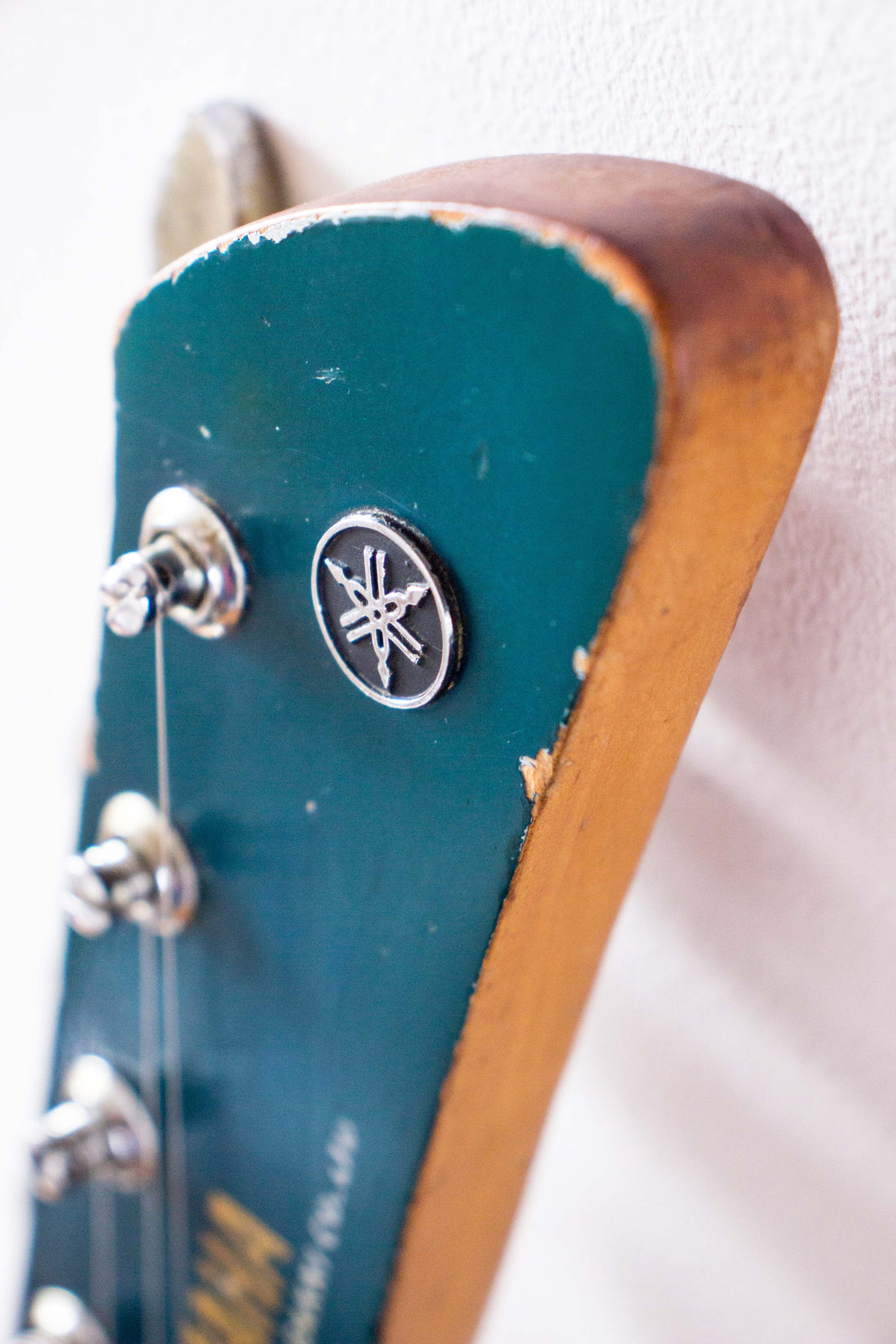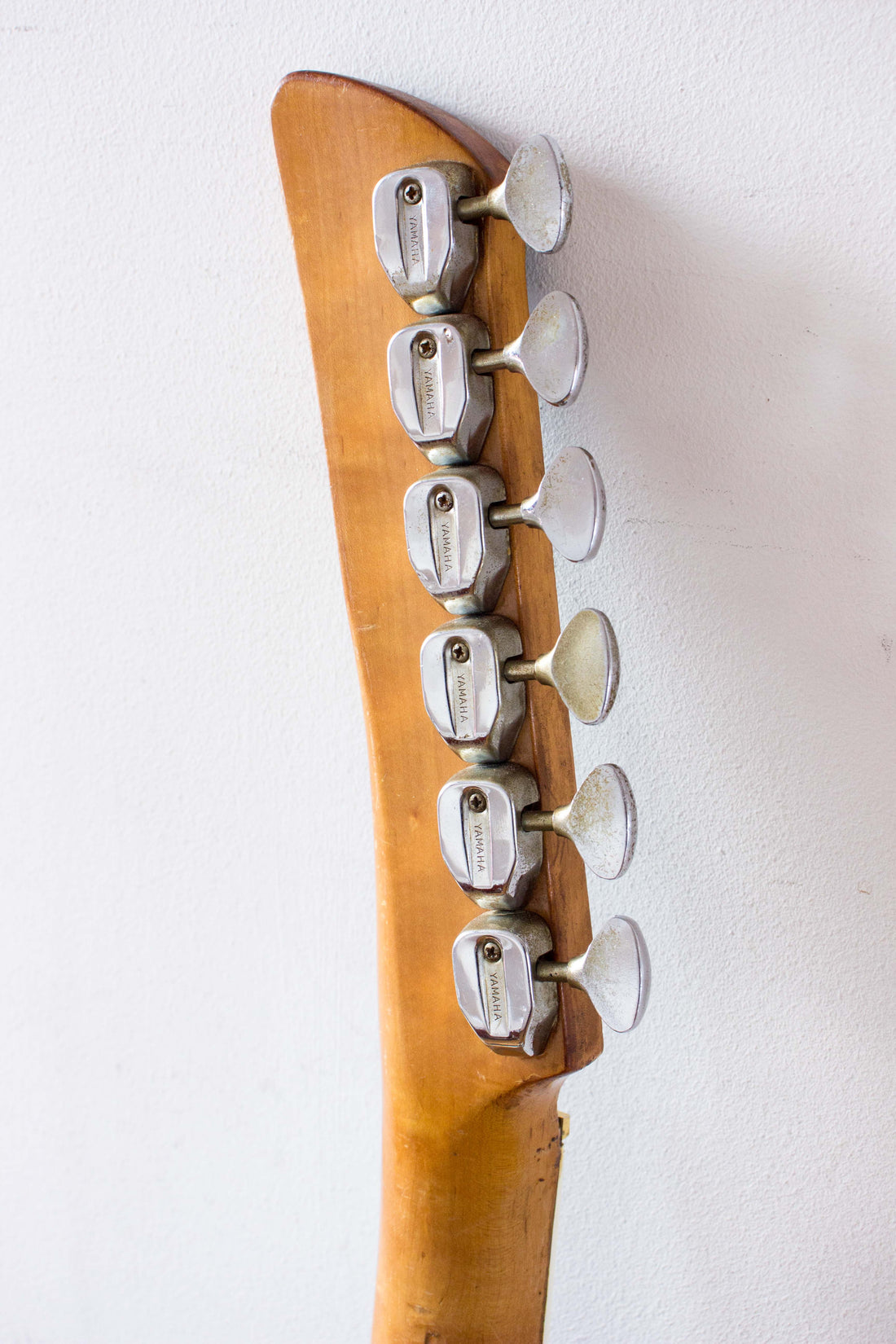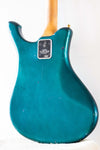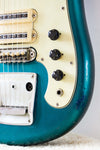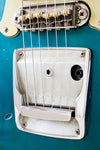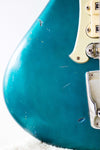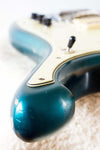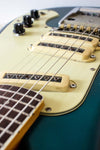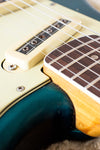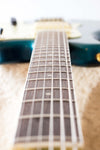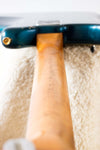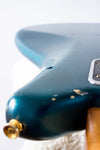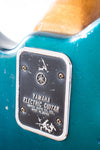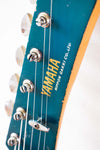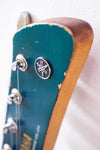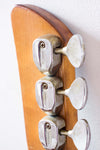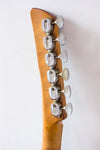 Yamaha SG-5A, pearl blue, made in Japan 1968. Well well, what do we have here? It's common knowledge by now that there's a deep, strong love for vintage Yamaha stuff here at Topshelf, and oh boy, here's a proper example. The 'Flying Samurai' was a Yamaha original shape that debuted in 1967; they were made for five or so years before disappearing into the evening mist... This is an original model from 1968. The wacky shape was designed to appeal to surf players; The Ventures were basically as big as The Beatles in Japan so there was a certain mania long horns, strange curves and twangy tones. The tone on offer is awesome. The neck pickup is Strat-like; spanky and sparkly with a thick attack and articulate punch. The bridge and middle pickups are housed in one giant connected cover; the blend control on the third knob allows you to use them either as single coils, together or seperate, or a single humbucker. The HB tone is thick and juicy, perfect with a smattering of gain and reverb, whereas the single coils are chimey and bright, akin to a Jaguar in their jangle. The neck is a soft-V profile like an original '54 Strat, but with a flatter 12" radius that's conducive to quick lead lines and big bends. The trem is fairly stable and a lot of fun to use, just like the whole thing, really. These are a cult hit with psych rock and surf bands, and not for no reason: they're a brilliantly made and wonderfully weird original 1960s guitar that you can buy without remortgaging your house. Plus, it's hard to deny, this is surely the coolest looking guitar you've ever dang seen, right?
Model: Yamaha SG-5A
Made: 1968, Japan (serial 7923)
Finish: pearl blue metallic
Body: sen ash (not verified, specs unclear)
Neck: maple with rosewood board, 22 frets, 24.75" scale, 12" radius
Mods: frets replaced with stainless steel frets, 3-way switch and two pots replaced, knobs replaced, trem arm replaced
Weight: 3.6kg
Pickups: original Yamaha single coils x3
Case: non-original padded gig bag, original case NOT included
Cosmetic condition notes: minor finish wear. Headstock has a few scuffs and minor marks as well as some discolouration. The neck has some scuffing from play as well as a few dimples and marks, it's clean and very smooth in the hands. The back has a chip on the top horn that's been coloured in blue, as well as some widespread but minor scuffs, scratches and dents around the body. The sides are similar, lots of small marks but nothing major: top horn and shoulder has dimples, scuffs and chips around the rear strap pin and input jack, as couple of scratches and marks on the bottom horn. The front ha a couple of coloured-in chips near the bridge and on the top horn, as well as a few dimples and scratches on the shoulder, horn and around the bridge. There's play wear on the guard and top horn. Overall: good condition (7/10).

Playing condition notes: Action is low, neck is straight, intonation is good, truss rod works. All electrics tested and working properly, noting the repairs above. Frets are brand new and stainless steel for extra durability, 10/10 for life left. Wearing fresh 10/46s.